Jah Wobble:
New Musical Express, November 3rd 1990
Transcribed (and additional info) by Karsten Roekens
© 1990 NME / JACK BARRON
GROOVERS IN THE HEART
Earth-moving bass plonker with PIL turned London Underground 'operative', JAH WOBBLE's maverick musical career – playing with everyone from Holger Czukay to Sinéad O'Connor – has been in search for 'truth' (honest!). JACK BARRON talks to the man about the latest incarnation of his Invaders Of The Heart.
"Don't touch me, I'm English." [1]
Wobble is reading in Whitechapel-speak from his poetry book on stage at The Event in Brighton [2] as The Invaders Of The Heart make contact with alien emotions. He makes me smile, does Wobble.
"Don't feel me, I'm English."
From being a barrow boy in the East End, through bass destruction with PIL, a diversion with Holger Czukay and The Edge, and on the way upsetting Prince [3] ("Who is this little cunt? Get him out of the dressing room!"), then descending into a whirlpool of alcohol and gear and coming out clean to play sessions with the likes of Sinéad O'Connor, [4] and more importantly getting his own band together ... yeah, Wobble makes me grin.
"Don't kiss me, I'm English."
Looks good does Wobble, but a little bit criminally cheeky on stage. Tall, slim, limelight features. If Mickey Rourke wanted to be a musician it would be Wobble.
Heard about Wobble, of course, the man who went from limos and flash hotels to doing an earner collecting tickets on the underground to being demoted to guard with a bit of driving trains on the side.
First time I tried to speak to him was at Gosh!, Charlie Chester's monthly do at Dingwalls, the night that Deee-Lite played. That was the first time that Wobble had been to one of these Acide Housey-type dinner dances. He was impressed.
"That was a good night. I wasn't really of that generation that went to see bands cos I just went to clubs, and what struck me is that it was the same sort of thing, basically. It's a British cultural thing. There are all these firms of little football hooligans and they're all E'd off their heads and they all love one another, and that's cool, and I looked around Dingwalls and I thought 'Yeah, this I can deal with.' I felt very comfortable in Dingwalls, whereas if I go along to the Marquee to see a band, which is once in a blue moon, I look around and think 'Oh, who are these fucking people, there are plonkers everywhere!' The point is, the dance scene is cool and easy right now."
Good job Wobble thinks like that really, since he and The Invaders Of The Heart have ended up on the Boy's Own Productions label with 'Bomba', a bit of a cracker of a tune to be sure. [5] And you all know who Boy's Own are, don't you? Trendy, designer-labelled-up lounge lizard DJs to ... and this is important ... all those who haven't met them or who only know of them by reputation. Here is what Wobble has to say.
"The reason we ended up on Boy's Own is that I thought from the beginning the people involved were real. They were down to earth, no pretensions. Everybody was enthusiastic, nobody was a waster or pretender. And that's a rarity in the music business!"
All great sounds, as Wobble likes to put it "intuitive and of their time", are marked out by their lack of artifice. Wobble fits in because he has always been like that. Artifice isn't in his character.
"I remember going over to America to tour with Public Image. Warner Brothers laid on limos and that. I remember sitting in a limo and it was great because I instantly realised it was shit. Limos and flash hotels didn't make me feel anything. That's why I like drinking in bars, I have a yearning for realness or searching. It might seem corny but that's the way I really am."
So Wobble left PIL with the aftertaste of limos in his mouth, worked with Holger Czukay on an EP called 'How Much Are They?', did a mini-LP for Island titled 'Snake Charmer' with Mr Czukay and The Edge, toured around the world with The Invaders Of The Heart ... and got fucked up in a globe full of cocaine dealers, London hairdressers and alcohol. Still, he knew what he wanted to do but got sidetracked and so quit the business for something normal for a couple of years, working on London Underground (Normal?! - Ed.). [6]
"In the early '80s I used to fuck around with shortwave radio, I liked the oscillations. I remember tuning into Radio Tehran one night and thinking 'Fucking hell, this stuff is as heavy as PIL', because it's equally committed. Others probably thought 'He's on drugs', and I was, but the point is that I got the same buzz out of that music as I did out of Led Zep's 'Physical Graffiti'. When I pick up the bass, I dunno why, but something happens. I'm a very anxious person, I live on me nerves, but like I said, when I pick up the bass something happens. My subconscious takes over and I chill out. It's like you plug into some musical force outside yourself, something that is bigger than yourself. All the great European players have that intuition. You don't just find these people in an advert, they come together, and that's what happened with this band."
The Invaders Of The Heart include Justin, who used to work with Frank Chickens, on guitar, sometime biker Nick on drums, a part-Belgian, part-Spanish belly dancer and virtuoso singer named Natasha.
"All of what we've been talking about probably sounds like a right load of Californian bollocks," continues Wobble. "What it adds up to is that moment when music gels and really takes off, like searching for God I guess in a way. I must stress I'm not a Bible-basher, I was brought up a Catholic, and it wasn't nice. You know there's a voodoo god that rules sound? And you can click into it and merge the ancient and the new. The ancient is just past lives experiences or collective memory or whatever you want to call it. We are, after all, the sum of our experiences, that's what shapes our characters. The trick is to use all that knowledge and use your talents so that they are of their time, and people will intuitively understand that. They will feel it."
Jah Wobble and The Invaders Of The Heart. Touch them.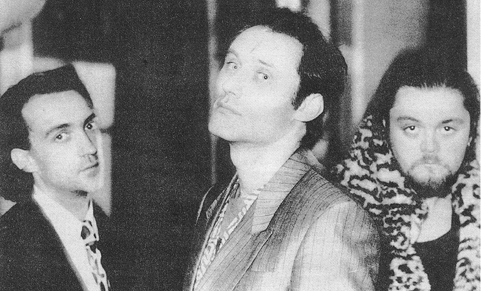 FOOTNOTES:
[1] 'Burger Bar', a spoken-word track from the 'Without Judgement' album (1989).
[2] The Event in Brighton (19 October 1990)
[3] Prince turned up for an encore jam at Wobble's gig in Minneapolis (16 May 1983)
[4] Wobble played on one track of O'Connor's album 'I Do Not Want What I Haven't Got' (released 22 March 1990).
[5] 'Bomba', a one-off single for Andrew Weatherall's Boy's Own label, was released in October 1990.
[6] Wobble worked for the London Underground from January 1987 to mid-1988.

Picture Credits: (Top to Bottom)
© unknown