John Lydon, Jah Wobble & Bill Price:
Uncut Magazine, October, 2008
© 2008 Uncut
THE MAKING OF... Public Image by PiL
With old scores to settle, John Lydon kicked off his post-Pistols career with an explosive first single. "Some say it's dub, but we all loved Wishbone Ash," he tells us... By NICK HASTED
Say I'm forming an Irish Cajun Disco Afro Rock band with Moog synthesisers," John Lydon told a reporter in 1978. "That'd be amazing..." That January, Lydon had walked out of the Sex Pistols after a final gig at the Winterland Ballroom in San Francisco. Almost immediately, he'd entered into a vicious legal battle with Malcolm McLaren, while at the same time trying to care for his terminally ill mother. Harried and broke, Lydon holed up in his new Chelsea flat through the spring, plotting his revenge.
Enlisting the help of college friend Jah Wobble, early Clash guitarist Keith Levene and "weird" Canadian drummer Jim Walker, he launched Public Image in October. Lydon used their debut single, "Public Image", as a platform to respond to a year's worth of media insults - "the Public Image belongs to me..." - while Levene's textured, chiming guitar proved inspirational for the fledgling U2. In broader terms, countless bands have subsequently ransacked the record's sound, not least Bloc Party.
Today, Lydon is smarting from allegations of racism from Bloc Party's singer Kele Okereke. "No Nazis in Finsbury Park. Not ever," he says pointedly. Asked, though, for his memories of those early PiL days, and he has nothing but fond memories. "The Sex Pistols was a crash course in how difficult life could become," he says. "But I felt I had a point and a purpose. I had songs that just could not happen in the Pistols, which was stifling for me. 'Public Image' was a self-creation. When you approach music with a completely open mind you achieve such better results. I don't think many bands thought of music in that way until we came along. Because ideas is the one thing most people don't have."
Uncut meets Jah Wobble playing Chinese dub bass at WOMAD. "He's like Bernard Manning," he laughs of his old band mate's recent form. Though deeply critical of Lydon's part in the "decadence" that followed the success of "Public Image", his affection for the record is significantly as strong as his old bandmate's.
When approached to participate in this piece, Keith Levene has only this to say on his time with the band: "I'm not talking about PiL. I'm not trying to be a cunt. This is silly. Come on. I'm done with it."
JOHN LYDON, PERFORMER: I was very vulnerable. I was facing endless legal nonsense from McLaren, and I had nowhere to live, and I was flat fucking broke. Changing my name back to Lydon was to deal with McLaren's lawsuit. He wanted to continue using "Johnny Rotten" under different guises, and I wouldn't allow that to happen. The pressure was relentless. But I wasn't going to go back to a no-hope council flat and let the bastards beat me.
JAH WOBBLE, PERFORMER: Look at reruns of The Sweeney. That's what 1978 was like. Corrugated iron, poor-looking. Post-war. It was the real fag-end of punk up the King's Rd. It was bad-tempered and macho, with fascist skinhead losers drinking cider. As a reaction, we wore suits, had a bit of flair. I never did like punk.
LYDON: When I finally got back to England, I decided to form a new band. I did so with Jah Wobble, a lifelong friend, and Keith Levene, who we'd met on tour with the Sex Pistols when he was in The Clash. It was friends together. We got Jim Walker on drums, very strange personality, but he could play. The first thing I wanted was to not sound the same as the Pistols. And after the first 20 minutes in a rehearsal room, we knew damn well we weren't going to.
"Public Image" came out of a lovely little jingle, messing about in the studio early on, that we all hooked into. The title came from a Muriel Spark novel, about a movie star going mad with egotism, and what can happen to you if you don't control your public image. I understood the victim's role, and how you can inflict damage on yourself far greater than anyone else can. The band-name came from the song. We weren't sure we even wanted a name. We chucked the "Limited" on the end to say we were curtailing public drunken druggery.
It was done more or less instantly. A couple of quick rehearsals, then straight into recording. The first days in the studio were exhilarating. Which I never felt with the Pistols,'cos we were under so much pressure and confusion. With PiL, we all went into it with an open mind, and the song shows it. We could go right into everything to the furthest degree. I felt fear. With the shackles off, did I have the talent to match the freedoms, offered? Are you making a fool of yourself here? I'd talk to myself like that.
WOBBLE: The first few months of PiL were deliriously happy, and you can hear it in "Public Image" - it's a major-key pop song, a Zulu, African tune. I was like a fucking prize fighter coming out of the corner. It was the first bass-line I ever did, and what I do now is still based on it - open strings, notes rather than chords. It's between major and minor, and there's root-notes and some other notes that make sub-tones with the root-note, thank you very much. The bass is three-quarters of the signal on that record. I just put it down, nobody told me anything. We all did our parts. It was an extremely democratic single.
LYDON: The previous year was consistent hell. I was being put on the chopping block for no right reason. The lyrics tell you an entire story about that. Every line means something. "You got what you wanted, my own creation, my grand finale and my goodbye". It's also my hello. Everybody had their words to say about me, but nobody asked me how I felt. This is it. It's not defiant. It's an explanation. Here's the truth. Because I can't afford to lie. I'm a human being. That's hand on heart, in the law-court, telling it how it is, your honour. I am innocent.
WOBBLE: It set his world to rights, he was full of righteous indignation. "Two sides to every story!... Somebody had to stop me!" There was all this fucking rage that had built up over a year or two.
LYDON: They couldn't understand my sleeve artwork [designed by Dennis Morris], because I wanted it to go out in a raggy old: newspaper. Which is vital to the message - it was through the media I was being shredded. And so here it is, a public image for you. Look - we can all play that game.
WOBBLE: You've got all that and you've got Levene's very clever guitar-part, that ringing thing that influenced so many people. He'd been a roadie for Steve Howe of Yes, who was a big influence. I think Keith was classically trained; he'd learnt to reduce things. He had a harmonic sense that most other guitarists would die for at that time. Of course, it had the life of a bloody dragonfly. Because of the drugs, and the shit that goes with it. He'd lost it half way through Metal Box.
LYDON: All of our tastes were so varied. There's a rhythm guitar thing in it where you could imply Wishbone Ash, a band all of us liked. Some have said dub, though we don't necessarily see that. We were more bass-oriented than the Pistols.
BILL PRICE, ENGINEER: Johnny I'd known from doing all the Pistols stuff. They'd recorded it and he wasn't quite happy, so he came to me to mix and do over-dubs. Johnny was nominally in charge. But he would look over his shoulder and ask Jah, "Is this the right direction?"
LYDON:I'd been a reggae DJ since I was 14, playing the serious hardcore stuff. To me, it was Finsbury Park music.
WOBBLE: I had a fight with the assistant engineer. He was disrespectful and rude. I bashed him up. Everywhere we went, there tended to be trouble.
PRICE: Jah Wobble had a fist-fight with my assistant, Jeremy Greene. They had an argument about a reggae person's talent. They were throwing punches down the end of the mixing desk. It wasn't helping the session much. You know Mr Wobble. And Mr Greene is 6'4" and 20 stone. It was an even match. We'd been up the pub.
LYDON: When it was finished, I knew the song was something else, I'm amazed I was a part of it. I can look at myself and go: "My God, you did that? Not bad, boy."
PRICE: It was a single to start a band. It reminded me in that sense of "Anarchy In The UK". It was a similar statement.
WOBBLE: "Public Image" was fantastic. But things started to go down the month after its release. Money started to come in and junkies go for that. John was weak. He didn't deal with the situation. He trusted the wrong people, Machiavellian parasites. You could write a great little Greek tragedy about it. Keith was a very knowing, spoilt kid from the suburbs who ran rings around John, who's a Catholic kid from Finsbury Park. I said to John, "Listen, he's got to have a hiding. You've got to take control." It's only years later you realise it wasn't easy for him. His mum was very ill. And I was a piss-taker, a bit of a Gazza. An obsessive, mad thing that wore people out. I just felt frustrated, I wanted to be out on the road. In my time with PiL, we did 20 shows. in two years. We should've done 20 shows a month. We had a lot of power at that time, which we could've used against Thatcher.
PiL's first show was a warm-up in Belgium, and it was a riot. In Paris, someone threw a frozen pig's head at me. Then we did the Rainbow. I'd been caning the speed and the booze. It was turmoil. There was that tribalistic "white bloke" element in the crowd that still wanted the Pistols.
LYDON: The harassment got worse than the Pistols for a period. We didn't get many gigs in Britain. We upped and moved off to America, and things fell apart. It was too different a culture for some members, lonely for home. But home didn't want us.
WOBBLE: John had that light around him that fascinated people. But it got incredibly dark and decadent within a year. With the heroin-users there was this pall about his flat. Eventually [in July 1980] I left. I think some opportunity was wasted. With the Pistols and PiL, there's this feeling of feeling cheated.
LYDON: These young whipper-snapper bands, I wish they sounded nothing at all like me. That would be the greater compliment. PiL had to create this out of our own heads. Imitation is not the greatest form of flattery. Bands should expand the universe, not narrow it.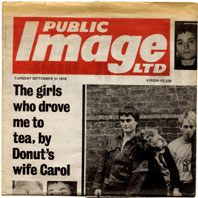 PUBLIC IMAGE
Written by PiL
Performers: John Lydon (vocals), Keith Levene (guitar), Jah Wobble (bass), Jim Walker (drums)
Produced by: PiL
Engineers: John Leckie; Bill Price
Recorded at: Advision Studios, London; Wessex Studios, London
Released as a single: October 13, 1978
Highest UK chart: position: 9
Highest US chart : position: n/a
TIMELINE

Apri1 1978
Three months after the Pistols split, Keith Levene and Jah Wobble join John Lydon's unnamed new band, Canadian drummer Jim Walker answers his anonymous ad ("Lonely Musician Seeks Comfort in Fellow Trendies") to complete the line-up the next month
July 1978
"Public Image" is recorded in two sessions across London
October 1978
"Public Image" is released, entering the Top 10
December 1978
Public Image - First Issue is released. PiL make their live UK debut on Christmas Day

Picture Credits: (Top to Bottom)
© n/a