Jah Wobble:
SPEX, Germany, December 27th 1984
Transcribed (and additional info) by Karsten Roekens
© 1984 Spex / HILKA SINNING
JAH WOBBLE
John Joseph Wardle knows where he comes from, and he knows where he belongs. Because it's one and the same: the working class. Has it anything to do with his excellent bass playing? No. By HILKA SINNING, photo: BERNHARD SCHAUB
Bus it has a lot to do with his habits, his lifestyle and his manner of speaking. And that's why he's always glad to return to London after concerts abroad, there he can go to the pub and to the football ground. There they get his jokes and speak his language. There he's safe from people which he can't remember, people who ask him how he is and who want to know all sort of things about his work and about PIL. He doesn't like to talk about it, and certainly not after a gig. John Joseph Wardle prefers to get pissed after a gig.
Disgusting table manners and musical talent are no contradictions. Jah Wobble, who comes up with these imaginative, pulsating bass runs, always provided he is on form, cuts away at his pizza and pokes around in the dough with his fork, trying to pick out the mushrooms.
Simultaneously he points out which side he's on, politically. Thatcher is the enemy of his class, thus his personal enemy. She alone is responsible for turning England into a third world country. Holger Czukay, at whose concert at Cologne's Stollwerck [1] he will play bass, interrupts his flow of speech: "Do you really hate her so much?" Jah continues: "You can even love her to death. But the main thing is: that woman has to be removed." It's a question of political responsibility, which most musicians lack.
Jah strikes blows in all directions. With his mouth full. Next in line after Thatcher are the musicians. Most of them just want to become pop stars, get into the charts and out of the misery. Want to see themselves on magazine covers and don't notice how boring they are, "fucking boring." The festivals are full of stupid, over-ambitious British bands. [2] They have no fun, no sense of humour, can't even get pissed properly. They sit backstage all dressed in black and take themselves desperately serious. A glance to the side: "Holger always says: no laughter in my studio!" Holger proves his sense of humour by ignoring the comment.
"More schnapps!" It's no schnapps, Jah, it's grappa. Whatever it's called, give me another one.
Next in line are the music papers. He thinks they are pretty uninteresting. But no wonder, music papers don't reflect what's happening anymore. You read what the writer had for breakfast and which train he took to the gig. Too little music, too many adjectives. He can do without this kind of literary self-reference.
Jah Wobble can do without all kinds of adulation. The cult aspect of music business, the tendency to create stars, the personality cult, the taking-oneself-much-too-seriously like it was in PIL, all this he detests, it has nothing to do with real life. Roaring crowds who celebrate the figures on stage like pagan idols, the whole circus which then continues backstage, endless discussions, self-satisfied yap in the midth of a mass of journalists, photographers, hair dressers, makeup artists – besides these nightmarish impressions from the American tour, his last act with PIL, there's only one clear memory from that time: frustration.
He prefers to go on a drinking binge, true to the traditions of his class. And he's rather a session musician than a member of a cult band. So he can omit the circus and join up with other individual musicians in loose formations, for a one-off production or a one-off gig. With individuals who can grasp his musical intentions: he wants to create atmospheres, wants to make records which sound a bit cinematic and create associations of jungles and desert landscapes.
The managers of Island see it differently. They think what he does is too "off the wall." Are the record companies next in line now? No. The Island deal has been finally signed after one year of toing and froing. [3] "More schnapps!" Holger frowns. Jah immediately gets the hint. Back to the studio, back to rehearsals. No more schnapps before the gig.
When the gig is over Jah Wobble's "real life" starts. He drags his crumpled trenchcoat from under the wires and pushes to the exit through the audience, to get a brain disinfection.
The last days' tensions release themselves into confused word cascades. Jah gushes forth doctor jokes nonstop ("Doctor, doctor, it hurts in two places!" - "Don't go there!"), imitates an American producer, and gives a talk in language he invented himself, wildly gesticulating. The dynamics of his expressions drop as his alcohol level rises. He starts to slur, needs three attempts to get his tongue into the right position to pronounce the word "insidious", insidious, musicians, managers, them all.
Before he completely sinks into delirium he flys into a rage. Suddenly he has to get out of Germany and return to London, at once. There the musicians are waiting, and the new record and the pub. It was all too much for him again.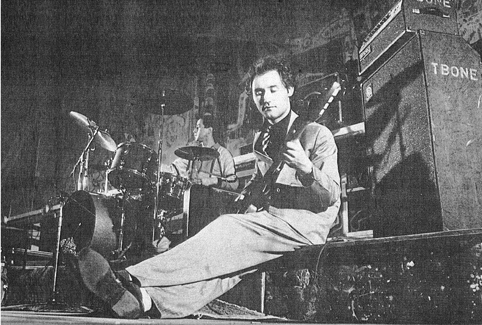 FOOTNOTES:
[1] Wobble played two concerts with Holger Czukay in November 1984, the first one in Aachen, the second one at Stollwerck in Cologne (30 November 1984).
[2] Wobble had just played Pandora's Box Festival in Rotterdam (22 September 1984).
[3] After 'Snake Charmer', Island Records picked up the option for one more album. 'Neon Moon' was released in May 1985.

Picture Credits: (Top to Bottom)
© BERNHARD SCHAUB