Sounds, October 30th, 1982
Transcribed (and additional info) by Karsten Roekens
© 1982 Sounds / Tim Sommer
PUBLIC ENTERPRISES
PiL's New York predicament explained by TIM SOMMER. Photo by LAURA LEVINE
Public Image exist at the centre of a massive conflict: the John Lydon/Rotten personality cult versus whatever artistic/spiritual ideals the PiL concept may have.

One one hand, the cult has given PiL a much wider audience and certainly directed more than a few extra dollars their way. But on the other hand, it inevitably limits and taints everything they do and how people react to them.

PiL's return to the stage after a seventeen month absence shows them condescending to their cult and the easy money/appreciation it delivers. Roseland's re-debut finds them performing as a traditional rock band again, playing audience favourites (including 'Public Image' twice) and posing and acting just like any touring band.

At May '81's Ritz gig, their last performance prior to Roseland, PiL offered us an unforgettable display of anarchy/subversion/confusion, it had all of the lack of regard for tradition and structure that Lydon and Levene wear so publicly in interviews and any declamations of PiL's purpose.

But the sad fact was that the Ritz fiasco/pinnacle was an accident, a case of PiL resorting to subversion simply because they were too lazy to create a more structured performance. At the Ritz, the overall effect was amazing, and the germs of some great ideas were there, but basically it was the reslut of laziness. The audience was confronted in a truly remarkable way, but only because John and Keith couldn't think of anything better to do.

At Roseland, PiL weren't so lazy and there was no confrontation. People got just what they wanted from PiL and more, because PiL put on a pretty good 'show' (and I can't help but say that with a slightly derisive feel, 'cos didn't PiL promise us they would never put on 'shows' again?). The Brian Brain rhythm section of drummer Martin Atkins and bassist Pete Jones was great, and John was stunning as only John could be (after all, there is a basis for that personality cult).

Some background to what's happened to PiL since they arrived in New York a year-and-a-half ago:

About six or eight months ago, maybe a bit longer, I had reported that PiL had broken up – a report, by the way, that later made John and Keith refuse to talk to me or 'Sounds'.

But as far as I'm concerned, I was basically right. PiL arrived in America for the Ritz show, decided they liked it here and stayed. Subsequently PiL did absolutely nothing as a band but drink beer and watch videos and hang out, any cohesiveness about the PiL unit/concept dissolved in a lazy haze. John put on weight, Keith (to some, but admittedly not to all) became an intolerable star/junkie, Jeannette Lee maintained the public profile of the so-called band, and the Lydon personality cult drew leeches and starfuckers like any personality cult would, some like Ken Lockie masking their groupieism with musicianship, others like Roger Trilling and Bob Tulipan masking it with 'management'.

PiL spent the rest of '81 and the first half of '82 dormant – not dying, but dead.

So Warners, PiL's American label, saw PiL for the unproductive moneywasters they were and booted them off the label. By mid-'82, John and Keith's beer and video money was running out – and for all I know, there might have been some creative inspiration there too – and it became apparent that the group and its implied profits would need reactivation, but still nothing concrete came about, John and Keith needing a less erratic catalyst.

In the spring Keith Levene chanced by the Mudd Club, where Brian Brain happened to be playing. Ironically, Martin Atkins had phoned PiL's loft to tell them that he was in town and wanted to say hello, but Ken Lockie, who was acting as PiL's receptionist for lack of anything more dignified to do, didn't pass the message on to John and Keith, possibly afraid of someone muscling in on his role as PiL confidant, and stealing away some of the girls he had been able to attract via his PiL connection. Anyway, Keith did chance across Martin despite Ken, and invited him to stick around and work on a new PiL record.

Atkins had worked well as PiL's catalyst before, he's a very unheralded power behind the 'Flowers Of Romance' LP, much of that record's unity is due to Atkins' contributions, and invariably it's the songs that Atkins shaped that are remembered.

In fact a few of 'Flowers'' backing tracks are entirely Atkins' work, with John later adding the vocals.

Atkins had first appeared with PiL on 'Metal Box''s 'Bad Baby', it was his audition for the band and he ended up on vinyl, subsequently toured with PiL and played – again, totally without credit, except for a co-writing credit on 'Bad Baby' – on the 'Paris In The Spring' live album, which incidentally documented Atkins' very first gig with the band after a mere half-hour rehearsal.

So Keith and Martin (John was making his film in Italy) spent the late spring and summer in the studio, usually in crazy 34 hour sessions, at times being locked out of the studio because they couldn't pay their bills.

Some time in the interim John came back, Jeannette left for good (with Keith and John denying that her contribution to the group had ever been of any importance) for the relative safety of Rip, Rig And Panic, and a lone week before the Roseland gig PiL enlisted the help of one of Martin Atkins' best friends, Pete Jones, to play bass on tour and perhaps do some recording.

Don't know yet what they'll be releasing, the release date has been continually pushed back since mid-July, but they've got this deal called Public Enterprises (or something like that), a corporation/label that will be distributed by Stiff – if they can remain solvent, but that's another story – at least here in America. And PiL is part of PEP. Follow?

And in a roundabout way it brings PiL the band, and now it's truly ridiculous for them to claim they're not, back on the road in America, where the money is and where PiL's appeal is 90% (at least) via the Rotten/Lydon cult of fame.

Real subverts – a Glenn Branca or a Mark Perry or a UT or a Z'ev, for instance – don't get chances like this, and if there is any singularity to PiL's music, there's very little to their approach.

So accept the compromise and be satisfied with the greatness that PiL, a band, do have to offer, or recognise the hypocrisy of the PiL stance versus the PiL practice and refuse the entertainment on those grounds.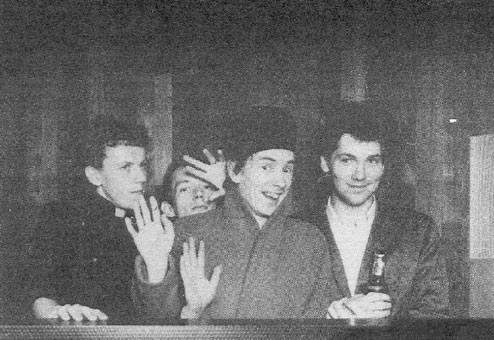 Picture Credits: (Top to Bottom)
© PiL NYC 1982 © LAURA LEVINE