John Lydon:
NY Rocker, March 1984
Transcribed (and additional info) by Karsten Roekens
© 1984 / CHRIS SALEWICZ
JOHN LYDON'S CORRUPT CAREERING
by CHRIS SALEWICZ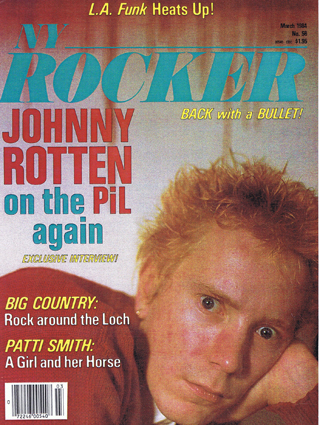 "The way in which I came to join the Sex Pistols was pure fate!" John Lydon,
now 27, reflects on his first starring role, as Johnny Rotten.
"Any old bod could have been seen miming to a record playing in a Kings
Road boutique and asked to become the group's singer. But it happened to be me. I'm obviously a very lucky person. But whenever I see a chance I always grab it and go all the way.
Sitting cross-legged on a six-foot wide futon in the bedroom of his loft in New
York's Chelsea district, Lydon glances at the functional furniture, the paintings
by Futura 2000 (the former subway graffiti artist) and the empty bottles of
imported lager that litter the joint. Then he focuses on a large colour TV you
suspect has not been switched off since he moved into the converted
warehouse two years ago. His eyes, once darting and feverish enough to give
him a look of divine lunacy, are now relaxed.
Since his move to America in 1981 his group Public Image Ltd. has fallen
apart and been put back together sans Jah Wobble and Keith Levene. There
have been no new albums and very few public appearances.
But John Lydon is hardly dissatisfied, and he does have something to show
for his time - 'Corrupt' (released in Europe as 'Order Of Death'), a film in which he co-stars with Harvey Keitel. To Lydon, this too is a result of the strong hand of fate.
Adjusting the white baseball cap that he wears back-to-front in emulation of
the black street kids in New York's hip hop scene - it is part of the
multinational ensemble that includes a dark-blue Japanese happy jacket and
grey check trousers tailored in London - Lydon continues, speaking in a voice that bears only traces of the mannered speech that once rose and dipped like that of a petulant child.
"The film came at exactly the right time for me. It was such a peach of a part, a rare delicacy. To be given such a chance for a juicy swipe at a film is a rare gift. I thought, if there really is a God up there, he does have me in his eyes!"
Lydon's decision to audition for 'Corrupt' was motivated partially by that
driving punk desire to irritate and debunk. Ostensibly more marketable pop
superstars like Sting and David Bowie, he learned, were already competing
for the part of Leo Smith, an English-educated rich American.
"As soon as I heard they were also auditioning, I thought right, I have to get in there!" he grins malevolently.
'Corrupt' was directed by Roberto Faenza, an Italian Marxist who is also a
professor of 'media manipulation' at Milan University. [1] It is the story of a
corrupt New York narcotics cop who has invested some of his crooked
earnings in a luxury apartment overlooking Central Park. Then the property
and his life are invaded by Leo Smith, an apparent psychotic who confesses
to a series of murders of police officers. But instead of arresting him O'Connor holds Smith prisoner in his apartment. He wants to prevent Smith from exposing the existence of the apartment and thus his own corruption.
The chilling tale attempts, with some success, to examine two universal
issues: the illusions of strength and weakness as presented by its two main
characters, and the nature of guilt. The guilt theme is considered in terms
directly related to Catholicism, which further enhances the part for Lydon,
himself brought up a Catholic by his Irish immigrant parents, and now so
cynical about that system of belief that he announces: "When you're brought up a Catholic and realise how phony that religion is, it does make you harder."
But did he get the "peach of a part" of Leo Smith because he was typecast?
Smith's character expresses many of the more extreme, negative aspects
Lydon suggested when playing Johnny Rotten - an amoral, fundamentally
evil figure, who delights in the most extreme manipulations of his fellows.
Or was Rotten also an act?
Harvey Keitel had only vaguely heard of the Sex Pistols and had no impression whatsoever of Johnny Rotten.
"My first impression of John," he says, "was that he was a sensitive, serious-minded person. And it quickly became apparent that he thinks very differently than a lot of people. To think he is playing himself in the film would be to do him a great disservice."
But confusion persists as to who is John Lydon and who is Johnny Rotten -
or whether they are the same individual. In a matter of minutes he is
addressed a number of times by both surnames and willingly answers to
each. John Lydon was always a born actor, his speech is peppered with
mimicry and jokey accents. It seems likely that Johnny Rotten really was
simply his first major lead role.
"It gave me a chance to say what I'd wanted to for a long time," he recalls. "It was very liberating. And very easy to do."
Punk rock itself presents a similar puzzle. Eight years after its first angry
mutterings, does it really seem to have been a genuine social revolution?
Or yet another example of showbiz manipulation masquerading as the politics of protest?
The answer is yes to both questions. To a great extent the phenomenon was the brainchild of Malcolm McLaren. When McLaren began last year to release records on which he was the artist, it appeared as though he had been building his confidence all along by studying how his various young charges had fared in the world of pop.
Lydon, who viciously disparages McLaren's not unsuccessful bid for stardom, is not surprised that his supposed Svengali is being sued for allegedly plagiarising the works of a number of artists on his first LP.
"Malcolm needs all the aids he can get," he quips one evening, as he picks
at a plate of sushi in a Japanese restaurant in Manhattan.
McLaren was merely tapping and molding a movement that he detected
simmering in the young rebels who were attracted by the outraging clothing on sale in his shop 'Sex'. But while many of the lesser punk heroes were frantically covering up their middle-class backgrounds, Johnny Rotten was the genuine article, the real McCoy: The eldest of his Irish immigrant parents' four sons, he had been brought up in a council flat in North London's Finsbury Park. At 14 he was expelled from his North London Roman Catholic school for being a disruptive influence. He completed school is various Further Education colleges, in the process striking up a close friendship with one John Beverly, who later became Sid Vicious.
Yet as Johnny Rotten he played the same game as most of the other main
punk contenders by providing the media with a rewritten personal history.
No doubt deeming it more ideologically correct for the archetypal punk to have learned life on the streets rather than in the classroom, Johnny Rotten's only educational qualifications were said to be Ordinary level GCEs (General Certificate of Education), minimal qualification. Somehow he forgot the educationally far superior three Advanced level GCEs he had also passed, with high grades.
He flunked Advance level art, he claims, because his examiners couldn't
handle the black humour with which he tackled he practical painting question: "All the themes were so corny. But there was one entitled 'enveloping forms'. So I painted several envelopes and linked them together. In the middle of them I put a mother eating her baby. The examiner told my art teacher she thought it was the most disgusting thing she had ever seen ... It was meant to be a joke."
Until recently John Lydon was unable to speak the word 'art' without deep
contempt.
With its emphasis on lengthy 'free' numbers, PIL was always far removed from the very basic rock 'n' roll of the Pistols. Guilty of a lofty preciousness, the group often flirted with pretentiousness in the past. But following his own unhappy experiences with the Sex Pistols, Lydon tried hard to keep PIL democratic and leaderless. As a result, much was talked about, but often little was achieved. In musical terms alone, the worth of PIL's best songs - numbers like 'Public Image', 'Annalisa', 'Death Disco', 'Flowers Of Romance' - was devalued by the self-consciousness of other numbers.
And after moving to New York in May 1981 the group seemed to stagnate.
PIL's only output was a handful of live performances. What were they doing? Why were they wasting all this time?
Well, John Lydon effectively spent the first year in bed, enjoying a psychic
cleansing from the often Kafkaesque events of the preceding five years. He
did little but watch TV, read, and drink beer.
However, the experience of making 'Corrupt' just over a year after arriving in
the United States was a watershed. It honed him to a fine edge, clarifying his thoughts, and sharpening his intuitions.
A new Public Image Ltd. album was recorded after his return from Italy. Its
release however has been stalled by financial and legal tangles, rendered
more complex by the fact that negotiations were carried out mainly by Keith
Levene, who is no longer in the group. In fact, since the spring of 1983 none
of the original group remains, apart fom Lydon.
Not surprisingly the new PIL lineup's European hit, 'This Is Not A Love Song',
marks a return to the simplicity of Lydon's best post-Pistols work. The record - a fantastic song incidentally - is a statement of intent: "I'm changing my ways where money applies," he sang, immediately before embarking on a world tour, and employing a manager (one Larry White who also manages two professional surfers ...) top oversee business matters. The various legs of this lengthy live outing were separated by visits to the recording studio - much of the time around Christmas was spent on sessions in London.
All this work is supposed to establish Lydon as the major star he deserves to be, instead of a (slightly fading) cult figure. His move to the United States was considered a betrayal by many of his curiously xenophobic original British punk supporters. The trashing he received from the British press when he returned to the UK to tour last November seems, depressingly, to have been motivated by nothing more than jealousy, a desire to punish Lydon for having deserted the sinking ship to live in New York. Besides, the gigs were great.
But Lydon regarded Manhattan more as a place of refuge. For every one of
his major victories a heavy price has been exacted. His mother's death at the
age of 45 from cancer of the colon the same week as the first PIL album was
released is the most cruel example. Such experiences have helped keep his
ego in check while allowing him to maintain an extremely high opinion of his
own potential.
"You must understand, I do love me," he remarks at one point.
Hoewever, in Britain he wasn't allowed his private dramas and tragedies.
Johnny Rotten, about whom everyone had an opinion, was a national whipping boy. To gain some respite from the hassles he invariably encountered when he left his house in London's Fulham, Lydon took regular
trips to Dublin - he seems to have always identified far more strongly with his
parents' country than with Britain. But in the autumn of 1980 an anti-British
bartender refused to serve him in a Dublin pub. Outside the bar he was set
upon, although the police arrived before he came to any harm. However, once they learned the victim's name they arrested Lydon instead of his assailants. Charged with common assault, the next day he was sentenced to three months in the city's Mountjoy Prison - though the case was thrown out on appeal.
"It's terrible!" he recalls, sipping alternately at a Bloody Mary and a beer, in a
hotel bar near Central Park. "You're told all your life in England that you're an
Irish git. Where do I belong in this world? Not on that continent, that's for sure!"
The decision to quit Europe was reinforced by a renewed interest shown in
him by London's police. His Fulham home was fruitlessly raided once a month for the last three months he was there.
"It became like some stupid joke. Once I was raided by the drug squad, who
didn't find anything of course. One of them, who was wearing a gold
marihuana leaf pendant around his neck, told me they'd watched me on TV [2] and thought, wouldn't it be good fun to get a warrant and raid his house,
because he only lives up the road. That's great news to hear at seven in the
morning when they're tearing your house apart!"
Though John Lydon carries on, in his wake are a trail of individuals who failed to last the course, Sid Vicious being only the most obvious example. Lydon customarily speaks as though these people have let both him and themselves down.
"I don't understand why people are so weak. Life is what you make it. I always realised you can do whatever you want to do in life."
In less guarded moments he expresses a different attitude.
"I loved Sid," he announces passionately at one point. "He was my best
friend. I just didn't want to see him taking heroin. But McLaren seemed to
encourage Sid to promote that absurd rock 'n' roll myth that being a junkie
is somehow glamorous. I always tried to expose how evil that idea is."
The power and energy John Lydon brings to the part of Leo Smith in 'Corrupt' suggests that his talent will still be evident in some form or another twenty years hence. But for now, he remains a musician first.
"I wondered if I was taking on too much with the film, if I was going to fall
flat on my face," he confesses, pushing away his protective bravado. "So I
isolated myself from everyone around me and tried to find the part within
myself. But I find it very hard to take the kind of discipline necessary for
acting. Which made me realise what it is that I do best. From now on I just want to get on with making the best music I can."
"There is no answer to anything," he sums up the central philosophy of his life, draining to the last drop both his Bloody Mary and his beer. "Just get on with it!"
FOOTNOTES:
[1] Faenza lectured mass media at the University of Pisa, Italy.
[2] Lydon's house was raided in the early morning hours of 13 February 1980, one week after PIL's BBC appearance on 'The Old Grey Whistle Test' (5 February 1980).

Picture Credits: (Top to Bottom)
© n/a