John Lydon:
No.1 magazine, February 15th 1986
Transcribed by Karsten Roekens
© 1986 No.1 / Anna Martin
THE RISE AND RISE OF JOHN LYDON
By Anna Martin. Pics: Tony Barratt.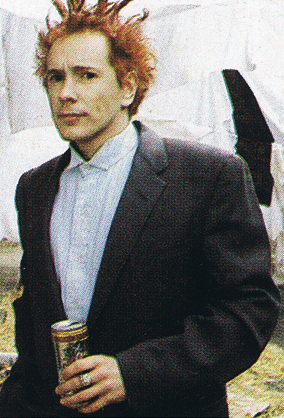 NEW LIFE
1976 heralded the unexpected arrival of a new phenomenon that was to shake the music industry (if only temporarily) - punk rock is now a decade old. Not since the hey-day of the mods and rockers way back in the '60s had there been such dramatic developments within the world of music and fashion. Badges inquired: "Mummy, what's a Sex Pistol?"
It was the era that spawned the Sex Pistols, Billy Idol and Generation X, Siouxsie and the Banshees, Adam and the Ants, The Clash, The Damned, The Jam and countless others. Punk offered something fresh, original and challenging - something new.
It was Johnny Rotten (born Lydon) and the Sex Pistols - Paul Cook, Steve Jones and Sid Vicious - who launched the fearless attack on the music business, aided by their manager Malcolm McLaren. Renowned for their violent and controversial behaviour, the Pistols were soon catapulted into tabloids, following the shock-horror of their four-letter words outburst (during a prime time TV interview with presenter Bill Grundy). The headlines raged: "The Filth And The Fury!"
After the Pistols had disbanded as quickly as they had come together, Paul Cook and Steve Jones went on to work together as The Professionals. Sid Vicious tragically committed suicide following the mysterious death of his girlfriend Nancy Spungen. And Johnny Rotten remained in the USA, became reborn as John Lydon and acquired P.I.L. - Public Image Ltd.
MONEY TALK
Now after a long struggle, the former Pistols and Mrs Anne Beverly (mother of Sid Vicious) have finally regained the rights to the name Sex Pistols, as well as control of royalties estimated at £1 million, in an out-of-court settlement with former manager Malcolm McLaren.
"I've felt for years that British journalists have been having a go at me," Lydon explains. "I've been treated like a right idiot and Malcolm was given full credit for everything, which was wrong and very inaccurate. When we were together none of us ever saw him. That man suffered from hindsight. Whenever it came to paying us our wages he would never be there! If there's anything I've learnt it's that I despise the whole corruption of pop music. I put it down to experience."
A MAN OF MANY MOODS
It hasn't stopped him making records though, and on an unsettlingly bleak winter morning, the legendary John Lydon is to be found amidst a sea of billowing white sheets in a King's Cross backstreet.
"What's this guy's name?" enquires a passer-by.
With fuchsia-tinged spikey hair and arms a-flapping, Lydon braces the chilly air and gets on with the filming of the video for his new and wonderful single 'Rise'. An equally exotic album (confusingly titled 'Album') is also shortly to be unleashed.
An obsessively busy artist, Lydon is a man of many moods (as I discovered). A torrent of energy, he is erratic in behaviour and extreme in mood. His manic stare is penetratingly chilling, and that leering laugh adds to the vivid fascination of his character. He is a clever man.
At one point he refuses to continue with the interview. He states that I'm trivialising him and tells me to go to hell (amongst other things!). Later, in a more subdued mood, he apologises for the outburst and we resume our conversation. Odd bloke! Yet, strange as he may seem, there is something surprisingly vulnerable about him ...
HAPPY BIRTHDAY
Coincidentally, at the same timew punk celebrates its 10th birthday, there's a Sid and Nancy biopic 'Love Kills' (directed by Alex 'Repo Man' Cox) being made.
"My view is that it's an appalling subject to make light of. I was asked help to write the script because I knew Sid so well, but that wouldn't have changed a thing. I don't feel the time is right for the truth, and the film will obviously declare that to be an absolute fact. They're not interested in the real Sid, they're interested in this yob, which he wasn't."
Do you feel that anything was gained by the punk explosion?"
"It's changed the business, but only temporarily. English pop music is still about trivia and homosexuals, isn't it? You can't pretend to want to perfect the world."
As sharp as the spikes in his hair, John Lydon will rise above anything.

Picture Credits: (Top to Bottom)
© Tony Barratt