Jah Wobble:
NME, December 17th, 1983
Transcribed (and additional info) by Karsten Roekens
© 1983 NME
THROWING A WOBBLER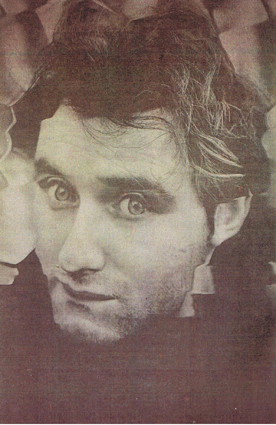 "Love is," says JAH WOBBLE, "watching Tottenham Hotspurs come out to play a First Division fixture." Fellow Spurs supporter ADRIAN THRILLS goes over the moon on the day. Photos: DEREK RIDGERS.
The gut feeling experienced by a football fanatic at 2.55 p.m. on a Saturday afternoon is as hard to define as it is easy for fellow supporters to recognise. As the minute hand edges towards the top of the clock, an expectant buzz ripples through soccer stadiums the length and breadth of Britain, a magical warm glow that lies somewhere between pride and affectionate loyalty.
For a couple of minutes, as eleven men emerge onto the pitch from the dressing room tunnel, the result of the day's game – unless one needs points as badly as Arsenal of course – ceases to be of the utmost importance. For a few precious moments an almost intangible tingle of anticipation takes over.
Jah Wobble knows the feeling well. He has been spending his Saturday afternoons on the terraces at White Hart Lane, London N17, for the past eighteen years and is convinced that the closest man comes to the Gods is when he is wearing a lillywhite shirt with a navy cockerel motif emblazoned on the chest.
Or to put it another way: "Love is ... watching Tottenham Hotspur come out to play a First Division football fixture."
From Monday morning to Friday night Jah Wobble is a musician. Formerly the bassist in PIL, he is now making wonderfully intuitive and intriguing music in his own right, either as the lynchpin of his band The Invaders Of The Heart or in collaboration with talents as diverse as The Edge, Hoger Czukay, François Kevorkian [1] and Ben Mandelson. [2] But all that is the meat of another time and another interview.
What concerns us here is what Wob does on a Saturday afternoon when all roads lead to White Hart Lane, or wherever the Spurs happen to be playing that afternoon.
A Tottenham supporter since the age of 8 – he is now 25 – Wobble is passionate and highly committed to the club. He recently turned down the opportunity to record at Compass Point in the Bahamas, as it would have meant missing the third round of the FA Cup in January, not to mention three or four vital league games.
He is also pretty adept at fixing things so that his obsession with Spurs coincides with his musical activities: it ws more than mere chance that he undertook some promotional work for his recent 'Snake Charmer' LP in Holland the same day that Tottenham were playing Feyenoord of Rotterdam in an important European tie. [3]
"I'm always pretty busy with the musical side of things," he says. "But there are two things that I'll always manage to find time for: football and my family. [4] If you want something badly enough, you can always find time for it. The only time that I haven't gone regularly was when I first fell in love with my girlfriend. You have that normal two years thing when you're really in love and nothing else seems to matter. I even used to miss 'Match Of The Day' in those days!"
"But I've probably been to every ground in the First Division following Spurs. It's a lot less fun for supporters going to away games these days, though. The drink restrictions are ridiculous, and the way they keep you locked in the ground after game to let the home supporters out first is pathetic."
"Another thing that I don't like these days is the way that the game is becoming so commercialised. At Tottenham it's all the TV advertising and the share issue. It's all just a gimmick to attract middle-class tosspots in their Mercedes. All those middle-class turds are just fairweather supporters."
"But your true Spurs supporters aren't all these media people who get their pictures in the programme, it's your kids from Hackney, Stoke Newington and the London suburbs, who go all the way to the game. They are the ones that live and breathe the club. But in some respects Tottenham are one of the few clubs who are remaining true to their tradition. They do try and live up to the image of an entertaining team with style and flair."
Wobble's stubbly good-natured ribaldry is the essence of football support. He rarely sits at a game, preferring the more raucous atmosphere generated on the terraces, where the taunts and chants are as much a part of the afternoon's entertainment as the game itself.
In his younger days he would take the devotion to greater extremes and admits to having been "a bit of a hooligan" on a couple of occasions, although he is far from an advocate of serious violence.
"I'm not a fighter. I used to be into it a bit more, but it was usually just through having a bit of front. It's all just front really. These days I just want to go and have a drink and enjoy the game. When you see all the little fuckers going round smashing up railway stations, it starts to get a bit silly."
"A lot of football hooliganism is just territorial jealousy. It's all about our end of the ground and our team. I think the daily comics are really hypocritical in slagging off the kids who go to football when you've got so many other people in the world fighting over territory and power in much more serious and harmful ways. It's like being back in the jungle - football brings out some of the primal elements in people. Society has got real cheek in slagging off the hoodlums, because a lot of it is actually very gentlemanly. The fights on the terraces are usually nothing more than a bit of pushing and shoving. It's more a ritualistic expression of violence than actual violence itself."
"When I see football fans charging down the streets, it reminds me of that jungle scene where you get a load of apes chasing away a leopard. They charge around with a load of wood and stones, but they know they're not going to kill the leopard, they just chase it away. It's just a bit of good fun, and it winds up people in authority, which is something I'm all for."
"But I'll still draw the line at physical violence. I might be a black belt in origami, but if your put yourself about as Mr Tough Guy, you're going to come to a sticky end. I'm basically a coward. I'd do everything I can to avoid trouble."
"I think Tottenham supporters are wiser than the most. It's a very cosmopolitan feeling. I think the two things go hand in hand: being intelligent and supporting Tottenham."
It might be a marathon rather than a sprint, but you can lay your bets now that Wobble will be there or thereabouts at the end of the day.
NOTES:
[1] Wobble worked with The Edge, Czukay and Kevorkian on his 'Snake Charmer' album (released in November 1983)
[2] Wobble worked with Ben Mandelson on his 'Body Music Mokili' single (released in October 1982)
[3] Tottenham Hotspur 4 Feyenoord Rotterdam 2 (19 October 1983)
[4] Wobble and his then-wife Margaux Tomlinson just had their first child Hayley Wardle (born on 27 February 1983)

Picture Credits: (Top to Bottom)
© DEREK RIDGERS 1983