Martin Atkins:
Melody Maker, April 26th 1980
Transcribed (and additional info) by Karsten Roekens
© 1980 / CHRIS BOHN
A YORKER BOWLS IN
by CHRIS BOHN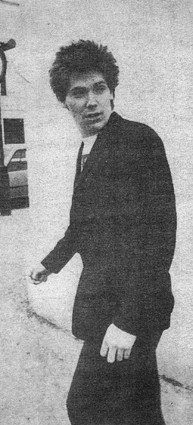 While Lydon and Levene have been promoting the release of 'Second Edition' in America, the other half of PIL have been busily engaged in solo work. Wobble's rhythm partner Martin Atkins has just completed an album under the unlikely name of Brian Brain.
Possibly titled 'Jet Boats Up The Ganges' [1] for no reason other than Atkins was impressed by the title when mentioned to him in a pub, it'll be released on the independent Secret Records label, which has just put out his debut single 'They've Got Me In The Bottle' – yet another variation on the theme of madness.
Although only a member of PIL for six months, he hasn't been put through the rigorous rehearsals one normally expects when joining a new band. In fact his final acceptance by the company was far more casual than that.
"I tried to join PIL when John first left the Pistols," Atkins recalls. "I came down from Durham for the auditions, which I read about in the music papers. But I had to go back early and so I fluffed that one. I tried again when Richard Dudanski joined. When he left I called Keith, who said 'Come along', and since then I've done John Peel with them, two gigs in Paris and a few tracks on the 'Metal Box'. [2] It was just me pestering really, and everybody eventually being happy with the arrangement."
As simple as that – Dudanski, incidentally, had left Bank Of Dresden for his short stay with PIL, his earlier band going on to produce one Mo-dette [3] and one Athletico Spizz 80. [4]
Atkins' background is an odd one for a member of Britain's most outré group. He previously played with a Northern club band called The Mynd, [5] whose preoccupation was to get their own PA. They thought they had it made when they managed to get a London Greyhound gig. Sometimes getting away with performing a few of their own songs, their set usually consisted of 'Top Of The Pops' staples and Bay City Rollers standards.
Atkins says: "It was prostitution in a way, of talents or whatever, but it was money for old rope. Anyway, it was a good drumming exercise, which I miss – I blister so easily now, as I only touch my drums once every two months and then only for an hour and a half."
Evidently he didn't find the PIL set-up half as strange as did some observers. "We did 'The Old Grey Whistle Test' with Charlie Dore, and she couldn't believe that we hadn't rehearsed for it. I told her we did a few gigs in Paris a couple of months before [6] and that was enough. She just couldn't understand."
Didn't he find it a bit weird when he first joined, dragging himself from the lower depths of the Northern club circuit, as it were? Not really.
"Joining just seemed to be the right thing, because I'd so wanted the job for one and a half years, and I'd listened to the PIL stuff a lot, so it didn't seem all that strange."
Revelling in the fredom of PIL's set-up, he went about recording his solo album, learning to play synthesizer in the process. But why Brian brain?
"Martin Atkins just doesn't cut it as a pop singer, does it? Brian brain was a Yorkshire fast bowler …"
Well, no weirder than Jah Wobble, I guess.
FOOTNOTES:
[1] The album was eventually titled 'Unexpected Noises' (released 14 August 1980).
[2] Atkins played only on one 'Metal Box' track ('Bad Baby').
[3] Bank Of Dresden bassist Jane Crockford formed The Mo-dettes in 1979.
[5] Bank Of Dresden guitarist Dave Scott joined Spizzenergi in 1979.
[5] Atkins played with The Mynd from 1975-79, see [http://www.myspace.com/themynduk], then moved to London to join The Hots in March 1979.
[6] The Paris gigs actually took place just two and a half weeks before PIL's Old Grey Whistle Test performance.

Picture Credits: (Top to Bottom)
© n/a