John Lydon & Jeanette Lee:
NME 7th, August, 1982
Transcribed (and additional info) by Karsten Roekens
© 1982 NME
AN ENGLISHMAN'S HOME IS HIS HASSLE
NOTE: Speaking later in Sounds Lydon states he was mis-quoted over anti-Italian comments in this interview. He comments: "They ask a precise question and you give a precise answer. Then they put these little bits inbetween which you never said… I don't have anything against the Italians. I have many good friends over there. These things make me angry".
On a brief visit to London en route from Rome to his New York loft, John Lydon talks exclusively to NME about his movie acting debut, the renewed activities of PIL, life in America and, of course, his first love, television…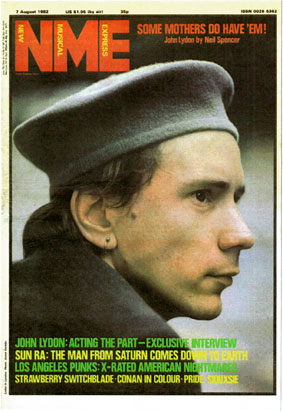 One of the big drawbacks to sitting around watching TV all the time is that you can get awful fat. Ask John Lydon. A long winter of 13-channel New York armchair stupor, the food a phonecall away, and there he was, toting 50 pounds of flab and shaping up as a stand-in for Robert De Niro in the latter stages of 'Raging Bull'. "I lost it all in Italy", he says, waggling the loose waistband of his trousers. "I' ve gone from 36 to 32... on my back to my customary 28. It's all that New York food, it's so fattening."
The offending pounds were sweated off in the hothouse of a Rome film studio where Lydon has recently been making his cinematic debut opposite American actor and star Harvey Keitel, a leading light in such modern classics as 'Blue Collar', 'Mean Streets' and 'Taxi Driver'. Lydon describes making the film as "six weeks of torture - and I loved it". He's clearly elated by his plunge into the giddy world of acting and movie making, which has seemingly snapped the former Sex Pistol and his cohorts in Public Image Ltd. out of their moribund Stateside torpor.
Even now Lydon is only back in his native London fleetingly, en route from Rome to Manhattan where he's awaited in the studio by partner Keith Levene and the hired hands of drummer Martin Atkins, already working on the next PIL record; Jeanette Lee, the third member of the PIL triumvirate, having accompanied Lydon on much of his European expedition. Then there's the series of forthcoming PIL concerts to attend to, Lydon having lost his long-held aversion to public performance along with excess pounds. "I just started to miss it", he shrugs. It will be the first time the group have deigned to play in public since their abortive and shambolic performance at New York's Ritz last spring, a show which ended in a hail of bottles, abuse and bad temper after the group had failed to emerge from behind their video screens after some 20 minutes or more.
"It was never meant to be a gig at all", says Lydon now. "We agreed with the club that we'd do their videos for them and they went and advertised it as a PIL show. Then they completely overreacted to the trouble - there was no audience riot. It was all so overplayed." These are the first real stirrings from the PIL collective since the corporation shifted its centre of operations from London to New York 12 months ago. For many, certainly for some of the punk diehards with a PIL logo stenciled on their leathers, the decampment was a little short of betrayal, a final confirmation that the former icon had quit their cause. Others merely recalled with bitter relish the proclamations at PIL's outset, the loud talk of videos, films, alternative strategies, breaking the stranglehold of rock on musical creativity, that kind of thing.
Instead, since the departure of bass maestro Jah Wobble and a succession of drummers, there had been mostly silence, punctuated only by the release of 'Flowers Of Romance' last spring, the third PIL studio outing, itself met with widespread indifference by press and public alike. For all its daring, its stark, revolutionary production, its electronic alchemy and acrobatic vocal performances, 'Flowers 'seemed to accumulate to something far less exciting and ultimately playable than the milestone of 'Metal Box'. There were the missing Wobble basslines for one thing, and there were whiffs of confinement, of a sour domestic introversion amid Lydon's vocal and lyrical savagery. (For all that it remains one of ' 81's more inspiring quests.)
As the grey Thatcherite winter unravelled at home, Lydon, Levene and Lee took the airs of New York (there being few graces in that particular city), and Rotten drew hard words from those back in Blighty for "getting fat, doing nothing and rolling round New York clubs getting fat" - as Joe Strummer put it from the midst of an arduous Clash world tour. People expected more. Lydon himself evidently relished the freedom life in the Big Apple allowed him after a London where the pressures of Pistoldom had never quite vanished. There was, for example, the matter of an unprovoked dawn raid by police on the singer's flat which had failed to yield any justification beyond an absurd charge for possession of a Mace gas spray of the type on sale in America to ward off muggers. Then there was a disturbing weekend spent in Dublin's Mountjoy jail staring the wrong way down a three month prison sentence before an appeal brought release. When people stopped Lydon on the streets of London, it was usually to harangue him. In New York they tended their admiration...
Lydon and Lee both maintain the value of the inactivity as a period of gestation, re-orientation, and getting to understand the American process - the group have just completed a new American deal for their own label - but still, the film role, fiercely contested, with both Sting and Bowie considered for the part according to Lydon, came at the right time. From the gossip I'd half expected Lydon to be sporting an almost Orson Wellesian girth, so it's a relief when he bounds into the living room of his familiar West London flat looking much the same as ever. He's dressed in a slightly oversize grey suit, grey leather shoes and a collarless shirt, and carrying a large carton full of Foster's six packs. Only the barnet looks different, unspiked, uncoloured, and parted matter-of-factly.
He's on good form. He immediately rattles into a detailed breakdown of the state of the British TV soap operas after a year's absence, feigning shock at the emigration of 'Crossroads' Meg Richardson and, on mention of 'An American Werewolf In London', a favourite movie, insists on rendering a full length version of the Yankee TV's 'Dr Pepper' (soft drink) advert jingle, for which he assures me Werewolf star David Naughton was principally known in the US of A...
Lydon's humour - arch, satiric, with an unerring ability to search out the weak spot in the foe or friend - is perhaps the quality most underrepresented in his music. It's the way he tells them, the voice and face at times bewildering mobile. Small surprise that acting, even at the upper level suggested by the presence of players like Keitel, should be so natural a development on the man's career. He remains an imposing presence, radiating the self-assurance of a man firmly in touch with his own identity and experience and devoutly confident of his own considerable talents. There are times when the confidence overspills into a stubborn fixation, but the self-mockery is never far from the surface.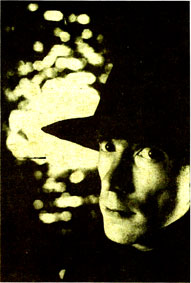 Despite his Rotten public persona - or perhaps because of it - he's essentially a private person, not given to analysis of his make-up or motives by outsiders, particularly the press. He still smarts from the treatment handed out to him in Pistols days, and consideration of his time as shame and scourge of the nation is not of especial interest. Of those who still hold up the Rotten as a holy incarnation of the true anarchic spirit of Punk, he says "Those people never understood what I said at the time, which was to do your own thing, not just copy other people." Still, a cursory look over contemporary acts proves that Lydon's vocal and stage originality are still as widespread a source of inspiration as ever.
Half a decade on from the Jubilee celebrations, and 'God Save The Queen' at the top of the charts cocking a snook and we have another summer of Royals and Union Jacks, much more a real Summer Of Hate than anything conjured up by the punk poses of ' 77. (Dole queue rock? We had no idea.) Most of Lydon's contemporaries from the early days are now slogging it out on the rock and roll circuit, parading meekly on 'Top Of The Pops' with the rest of the marketing campaigns, or quietly in abstention. John Lydon continues to evolve - erratically, inconveniently, but still guided by the most valuable commodity in the artist's reservoir - integrity. Unlike most of the celebrities cast up by the music scene it's hard to imagine he won' t always be around in one guise or another. I hope he is.
We adjourn to the local Indian restaurant where the waiters greet John like a long lost customer. He is. Where has he been? "I been ill... Royal Hospital Chelsea. Trouble with the wisdom tooth." No, says the waiter, he has been in New York. And what has he been doing there? "I' ve been getting into real estate." What's that? "I just went down and looked at a real estate." (Collapse of party.)
WHAT'S YOUR CURRENT LEGAL STATUS IN AMERICA?
LYDON: "We now carry business permits, which means we can work in the USA or anywhere in Europe."
YOU DON' T HAVE GREEN CARDS (RESIDENT STATUS)?
LYDON: "Definitely not. This is another myth. (Stresses) I do not ever want to be an American citizen. I carry a Union Jack in my passport and it will stay that way. I don't particularly like the tax system here, and it's much better to earn your money abroad and live here, than to earn your money here and live abroad."
DOES THAT MAKE YOU A TAX EXILE?
LYDON: "No. What we earn in England, fine, we' ll pay on that, but what we earn outside will be under different tax regimes and that's something most bands don' t seem to be aware of."
LEE: "The business permit means we' ve non-resident status, but with the right to run a business."
LYDON: "You see we' re setting up our own record label - P.E.P. - Public Entertainment Productions. That's the official American name and under that we' ll be hiring American citizens to do various jobs. And that allows us to set up a company there. "We' ll be going through Stiff for distribution and possibly marketing. They' ve actually got a very good marketing system, and distribution - well, they' re one step away from RCA and the like."
AND YOU' RE ABLE TO DO THIS BECAUSE YOUR CONTRACT WITH WARNERS IN AMERICA EXPIRED?
LYDON: "Yes. Warners offered us a shit deal which was like, 'Give yourselves up to us so we can manipulate you.' It was a 'We'll make you stars if you don' t ask for much money situation."The point is we've always said, No, we will not let a management dictate to us. We do our own artwork, write our own songs, produce ourselves. All these things to the likes of Warners are poison ivy. Virgin are not too hot on it either. And how THAT particular situation will end up God only knows."
THEY'RE BOTH CONTRACTS FROM PISTOLS DAYS, HOW COME THE WARNERS ONE'S UP AND THE VIRGIN ONE ISN' T?
LYDON: "Because we signed a contract with Virgin since. The original eight LP deal was too stifling to both sides. Also what we thought we were signing proved not to be the situation. It's amazing how British law can change the meaning of wording in any particular fucking way they like. It's more like semantics - is that the art of emphasis on different words? - well, it's just a power game. "That's something Joe Bloggs isn' t aware of - you can sign something that makes it sound sooo great, but you wait for one hell of a prick to read it out in court! "This is the running of British law; it's the confusion that keeps them all in office."
LEE: (changing subject) "I was reading an old 'Face' round a friend's place and I came across Julie Burchill's piece on the Falklands. Did you read it?"
I ALWAYS READ JULIE'S STUFF, SHE'S TERRIFIC.
LEE: "Didn' t you think it was a bit..." (laughs)
LYDON: "She is amazingly predictable. You just change the names round different weeks."
SOUNDS LIKE BRITISH COMMUNISM IN ACTION.
LYDON: "I won' t have communism."
IT'S PRETTY OBVIOUS IT DOESN' T WORK WHEN YOU LOOK AT ALL THE COUNTRIES THAT HAVE IT.
LYDON: "It's a joke. Like Italy - the most penny-pinching country in the world, they steal each other's pyjamas before they go to sleep - and they' re sooo in love with communism. "Where I was staying they had a really big rally the day before Reagan arrived (*). Because Reagan arrived on a Saturday, and that's their day off and they don't demonstrate on their days off. So Friday afternoon, 300,000 of them - it was like Fiorucci, a parade of Fiorucci. And pink in Rome I do believe is the colour this year..."
LEE: "Or candy stripes."
LYDON: "Oh, and the frills if you want to be slightly suggestive...They all had hammer and sickle banners they were waving like that... (strikes very arty banner waving pose) ...and shouting, REAGAN GO! Then there was a load of old eejits bashing drums to old Italian folk hymns...and he hadn' t even arrived! It was all so typically over the top Italian."
THE JOKE DOING THE ROUNDS DURING THE FALKLANDS WAR WAS THAT ITALY HAD SURRENDERED JUST IN CASE:
LYDON: "It's like the Italian salute (raises arms in surrender). "Oh God, Harvey (Keitel) one day ... there was this particular scene when we got blind drunk, ' cos if you' re gonna act drunk you might as well be drunk for real. For a joke he said 'Have you ever seen the Italian salute?' and put up his arms and the entire film crew just walked off the set...12 hours a day we worked in that fucking studio..."
I WAS GOING TO ASK YOU ABOUT YOUR DAILY ROUTINE AS AN ACTOR.
LYDON: "Incredible. Preposterous people, actors, I tell you."
IT MUST BE VERY HARD WORK. WHAT TIME DID YOU START?
LYDON: "Six, arrive at the studio at seven, an hour for costume drama - 'Where did I leave that white shirt?' nonsense - and make-up, which I refused to wear."
SURELY YOU HAVE TO WEAR IT?
LYDON: "Yeah you do. My face was so white it reflected the lights, because it's a very darkly lit film. I was allergic to the stuff they tried first. This is all 100 degrees in the shade and no air conditioning because it's a direct sound studio. Usually they dub the sound on later. So you' re literally baking alive in this damn studio. "It would go on until eight, nine in the evening. Go to the nearest restaurant, eat, and get up next morning and do it all again. Six days a week. There's no such things as tea breaks in Italy, you' re allowed one hour off at midday and that's it."
TELL ME ABOUT THE DIRECTOR.
LYDON: "Roberto Faenza. He's apparently famous for one particular picture - 'Escalation', which no one outside Italy has ever seen, but everyone in Italy never stops raving about. It's very trendy for that particular time - 1968. You know, keep the Red Flag flying, that kind of stuff. "He's also famous for a book about video replacing cinema (**), and two books about the Red Brigade and what a jolly bunch of chaps they are. All in all a very typically confused Italian. Like he' ll wear that - ugh! - awful style of Italian raincoat with a split V at the back that goes into a bell at the bottom... they' re so fashion conscious, the Eyeties."
WAS THE FILM HIS IDEA?
LYDON: "No. The idea for the film came from an English author called Hugh Fleetwood. Apparently 'The Times' for the last 15 years has been writing nothing but rave reviews of his books. I don' t know him from Adam. But this was a good part. I could behave as sickeningly as I liked...and did!"
WHAT ABOUT THE BOOK?
LYDON: "It's called 'The Order Of Death', came out in 1976."
WHAT'S IT ABOUT?
LYDON: "Guilt. I just think it's about this swine who was in England for his education, because his Bostonian parents are so bullshitty that they couldn' t have anything but the best for their son. And he comes back far from the best; English public school left its mark and he's very much into masochism."
SO HAVE YOU GOT STAR-BILLING?
LYDON: "No."
BUT IT'S NOT A SUBSIDIARY ROLE?
LYDON: "I hope it is. I'm in the film three quarters of the time, but the point is these are all professional actors and I didn' t want to argue about billing, slightly from a conceited point of view I' ll admit. If you push yourself too far upfront it's demanding too much attention and I don' t want that. I just want it to be either a film you go to see or don' t, and I' m either good or bad. It's not a Dave Bowie or Sting epic. I wanted to break right out of that mould. And I think I have, because I think I' m a far better fucking actor than either of those two could ever be. "We shall see. A lot has to do with editing...(resigned) as I found out."
Over dinner we haggle about cinema, Lydon pulping German and Australian movies, while conceding 'Picnic at Hanging Rock' and 'Devil's Playground' ("one long pisstakes of the Paddies"). He likes New York cinema audiences, hates American films, 'American Werewolf' aside, and thought 'The Long Good Friday' was the greatest. Britain, he says, could make more good films, "but no one's prepared to invest. So what happens? We get Canadian film after Canadian film."
WE DO? YOU MEAN DOCUMENTARIES ABOUT MONTREAL?
LYDON: "You mean you couldn' t recognise a Canadian film? It's like a very bad porno film without the bare tits - that level of acting, usually about bike gangs." In general he finds German cinema obsessed with guilt, American cinema with morality, "and the Eyeties will do anything they' re asked. They' re the bastards of the cinema, they really are."
YOU SEEM TO HAVE IT IN FOR THE ITALIANS.
LYDON: "The hatred for foreigners is so intense. They cannot stand the English, but they hate the French more, everyone except the Germans. Rome was bloody crawling with them."
I' VE NEVER BEEN THERE, BUT I'M SURPRISED.
LYDON: "English tourists behave disgustingly abroad. When a coach-load of English pull up the piazza clears up instantly. Pigs. But I don' t fully understand the Italian hatred of the English ' cos they got no culture of their own to offer the world. Nothing. Zilch. All their music is English...oh, and by the way they still love the Rolling Stones. Every single club I went to, Rolling fucking Stones. "One thing they do follow is English fashion. Even then they get it screwed up. Like you' ll follow a guy with all the skinhead clothes down to the last detail, and then a mass of curls up here and parted on the side like that, uuuhhh... "I tell you what, there's a very weird law here relating to the EEC, that when a Continental comes here and causes trouble, the law is they have to be shipped back. But if an Englishman goes to Europe and is caught for a misdemeanour, that's prison, they can get jail. It's very peculiar. It's something I wasn' t aware of until I went to Italy and met a lot of English people who had decided to live there and found it so bloody impossible..."
DID YOU DO MUCH IN ROME EXCEPT WORK?
LYDON: "No, it was 12 hours a day six days a week. I' ve seen nothing of Italy. I know nothing about Italian people. I might well have been in bleeding Bayswater."
WHAT ABOUT EVERYTHING WE HEAR ABOUT PIRATE TV AND RADIO?
LYDON: "In Rome they have 90 channels."
GOOD STUFF OR WHAT? LYDON: "Good films. Lots of Bruce Lee and Kung Fu films. (Intones) The Bruce Lee news went that way! Then a lot of Italian horror films - nuns castrating priests, that kind of thing."
HOW DO THEY REGARD BRITAIN IN ITALY?
LYDON: "They don' t. Everywhere outside of Britain regards Britain as a very small island of no significance whatsoever. Take the American market - they don' t care what sells a million in Britain. What's the point in caring? Tinpot little country... It's like this East versus West armament thing. You know Europe is the target. America and Russia don' t aim their bombs at each other, they aim them at their European fucking controlled satellites. That's the attitude...oh, and you know, they just LOVE your accent. You' re so quaint. You' re a creature from the 15th century, an evening's entertainment for them, that's as far as it goes. "There's no such thing as friendship in that country. You can only be friends with successful people."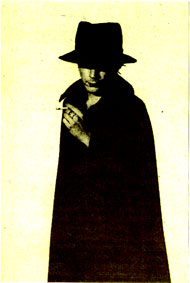 EVERYONE IS JUDGED IN TERMS OF MONEY, HUH?
LYDON: "Everything is based on the Dollar. The only prejudice when you get right down to it is money. All colour bars mean nothing if that person has money."
FOR ALL ITS CRASSNESS AMERICA IS A MUCH MORE OPEN, MOBILE AND EGALITARIAN SOCIETY.
LYDON :"It's to their blessing, but they haven' t really bothered to advance that attitude properly. It's like - oh gawd, I'll probably be hated by the likes of Joe Strummer for saying this -, but you only stick in the gutter if you got nothing to offer. "When people think of New York they always aim in on the black ghettos and how bad it is there, but the ghetto is a ghetto there, and you' ll get Irish, Jew, Italian, Puerto Rican in equal proportions. But thEse are the parts that are not trendy. The main areas are the Bronx, the Puerto Rican areas. And ABCD, which is heavy junkie... "But in America if you' ve got something and stick to it there's always someone there with a chequebook at the end of it... But even at their most squalid they' re not as squalid as a Londoner can be..." (laughs)
YOU MEAN, LIKE BRITISH VIOLENCE IN AMERICA HAS A REPUTATION FOR BEING BRUTAL?
LYDON: "That's not true. British violence has a reputation for being entertaining, they don' t take it as strictly serious."
LEE: "It has a reputation for being quite frightening."
LYDON: "In as much as they don' t understand it. There it's one against one with guns...er, English violence has never made sense anyway. It's like football violence, when they show the FA Cup finals and the camera shows a massive great ruck going on, and they're going (American accent) 'My God, those limeys, they take their sport so seriously.' (laughs) But they think we' re toy town."
IT SUITS YOU TO LIVE THERE...
LYDON: "Here, I get bothered all the time, I can' t go nowhere. There, it's so lackadaisical it's easy to do nothing at all...15 or 16 channels of TV going 24 hours a day, uuuhhh..."
PARADISE, EH?
LYDON: "You know me and my TV? And a radio you can listen continuously to..."
IT DROVE ME CRAZY. GETTING BACK HERE TO WORLD SERVICE AND 'GARDENER'S QUESTION TIME' WAS LIKE - CIVILIZATION.
LYDON: "I' ve been there a year and I' ve got over that, uh, sickness, and after the first six months I was really homesick."
WHY DID YOU STICK IT OUT?
LYDON: "I really wanted to suss out America and the way it works, even down to how to park your car, and it takes that length of time. They work very differently, but they are basically people."
AND THE PIL STRATEGY NOW THAT IT'S SUSSED?
LYDON: "Because it's a different country it's easy to look at things more clearly. Here we' re still obliged to Virgin contracts. We' re selling each territory separately. I know Virgin are very interested to find out what we' re doing but sorry Simon (Simon Draper - Virgin MD), we' re not saying anything."
IS REAGAN MORE POPULAR OR DISLIKED NOW?
LYDON: "Absolutely no attitude to him at all. Just like, what a bad actor, what a waste of time. He arrived back from Europe (***), got off the plane, got into his limo and they did a motor tour through New York. No one clapped, no one waved a flag. Just stood still and watched the limousine with 1500 security cars behind. That must be frightening if you' re the President of the United States, that's worse than them booing at you, just no attitude, just acknowledging what a nice big car."
Back chez Rotten Lydon is rediscovering the old reggae tapes that he left behind in the PIL exodus: collections of hit tunes from ' 77 and ' 78 by Heptones, Junior Byles, Doctor Alimantado and the like, back when the music was hot. Lydon doesn' t listen to reggae these days - "It's gone so far downhill", he says truthfully. Mostly it's now funk he enjoys. "I think she's a very good singer", he remarks as Odyssey's 'Inside Out' booms out. "One of the very few acts to take over 'Top Of The Pops'. Such confidence. "I'll tell you what I did in New York for a year", he says, gleefully pulling the ring-cap off another Foster's. "Sat and watched American TV. And I loved it."
WHAT HAPPENED TO YOUR PROJECTED COLLABORATION ON THE SOUNDTRACK TO 'WOLFEN'?
LYDON: "We wanted to do that soundtrack a lot, all of us. Warners wanted us to share the soundtrack with Tom Waits and other people on the Warners label, and we wanted the whole deal. We wanted a deadly serious soundtrack. That film started out as a 13 million dollar production and they cut it. It was the producer and editor who wanted us to do the soundtrack. What was his name...?"
MICHAEL WADLEIGH (DIRECTOR OF 'WOODSTOCK').
LYDON: "Yeah, he ended up with something like 13 hours of footage and then condensed it to an hour and a half. He had planned it as a three-hour epic, segmented with documentary footage, but Warners, 'Naaah, can' t sell that to the public, man', and they done it a death. Because some of the footage... when I saw it, I went 'Wow, let me start the soundtrack immediately.' But none of that was in the film, they cut out all the really good bits, like that episode in the high rise with all the mirrors."
WILL PIL DO THE SOUNDTRACK FOR THIS NEW ONE?
LYDON: "Probably us. It's under negotiation, they wanna hear what we got to offer."
HAVE YOU BEEN IN THE STUDIO? IS THERE A NEW LP?
LYDON: "On and off we' ve been recording over the year, yes. We started on an album before this film came up."
WHAT DO YOU THINK OF 'FLOWERS OF ROMANCE' NOW?
LYDON: "It sounds very odd to me now, but I like it a lot. Certain tracks make me sick. 'Under the house' I really love, 'Banging the door' I really like..."
HOW ABOUT 'GO BACK'?
LYDON: "Too throwaway, not good enough. I came straight out of jail in Dublin and came to London and recorded instantly. Hopeless. That's the way I was feeling at the time, and it shows badly. It's horrible to listen back to that kind of paranoia."
WHAT ABOUT 'METAL BOX'?
LYDON: "I always liked 'Metal Box'. We recorded it over a year, no two tracks at the same time, but it has one sound, all definite to one area."
WHAT ABOUT NEW STUFF?
LYDON: "It's been difficult because I' ve been away two and a half months and that's a long time to be separated. Keith's been at work because we have a very good studio deal with some people we might be amalgamating with. He's been banging down rough ideas and I been sending over lyrics. It's a joke ' cos I' m the only one who can read music."
WHEN DID YOU LEARN THAT?
LYDON: "A late night course at a school down Liverpool Road when I was at school. I was hopeless."
DO YOU WRITE MELODIES THEN?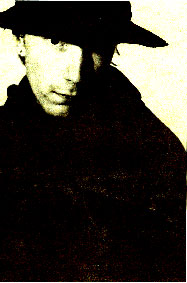 LYDON: "Oh yeah, give me a piano and I' ll bash it out. It's a joke because I' m either getting very talented or music is getting very dull, ' cos in less than three fucking notes I can bash out any tune in the top 30, it's so easy it's sick. They' re all the same. "You know that Human League song, that big hit of theirs? The other week we went to an Irish pub and an Irish showband did a version of it, and it was so much like an old Irish fucking dismal tune it was perfect! It fitted in so well with 'Take me home country roads' and 'I' m a rhinestone cowboy'. Perfect! "Having been away on this film for so long I really do not know what sells anymore. Not in this country. Watching 'Top Of The Pops' I' m embarrassed by half of what's selling and I laugh at the other half. I cannot understand how people can buy a Steve Strange record. What are they buying? The image is so wallysville, and the music is non-existent ... maybe I' m getting too old and cynical."
DO YOU THINK YOU ARE CYNICAL?
LYDON: "No, just honest. Oh, let's talk about cynical: Joe fucking Strummer. When he went missing that time and they cancelled the tour and they found him in parlez-vous francais having a holiday with a young kitty. How lovely! Joe, the kids are where it's at, right? Hypocrite!"
WHAT MAKES PIL NOT A ROCK AND ROLL BAND? APART FROM THE FACT YOU DON' T DO LIVE PERFORMANCES? BUT THEN NEITHER DO THE MOODY BLUES OR THE PINK FLOYD.
LYDON: "Rock and roll is all about.. .well, marketing, selling an image. Not something you can listen to a couple of times a year or so later. Our friend Stevie is very much rock and roll."
STEVIE?
LYDON: "You know, that Strange boy from Wales. God, I was so surprised how (Northern accent) 'Don' t you want me baby' can be so easily converted to an Irish pub song."
WHY DON' T YOU USE SOME IRISH FOLK SONGS IN PIL MUSIC?
LYDON: "Why should I?"
WELL; IT SEEMS TO BE A SOURCE OF CONTINUING FASCINATION TO YOU.
LYDON: "No. I' m Irish and I' ve been brought up in that environment. It's not a source of fascination. There's nothing brilliant about the Irish, I can tell you that. Being one of them I can tell you, they' ve nothing to look forward to. I am not a potato farmer and never ever wanted to be." A call from Keith Levene in New York. He's in the studio and insists on playing back his latest creation over the phone through an open studio door. It sounds like Dr. Feelgood on a bad night. "Terrible Keith, get back to work", chortles Lydon. A change of videotape to 'Raging Bull' brings forth groans from Lydon. "Apparently Scorcese's new film 'The King Of Comedy' is so bad that the financiers are thinking of withdrawing support and cutting losses." I offer a groan back about 'Raiders of the Lost Ark'.
LYDON: "It was film-quality people were watching in that. Not plot, ' cos there isn' t one, special effects aren' t that good, but it looked expensive."
IT WAS PURE TOURISM. ALL THE HOLLYWOOD BRATS ARE BLOWING IT AT PRESENT. NEXT UP IS THE ALIEN AS LASSIE IN E.T.
LYDON: "This is what's wrong with American cinema, that the directors don' t know nothing. They buy up these cheap books sitting in their fucking flash Hollywood houses, and they know and do nothing. They try and be weird just for the sake of it. Nothing has any quality any more in America. It's the pits... "Oh, De Niro's doing this new film with Sergio Leone (****)... (groans) It's done like in the style of a spaghetti western, but about Jewish gangsters in New York running an opium den in the ' 20s...awful... "Maybe I' m very wrong in what I' m saying, but De Niro's on the casting agency, which means he handpicks who works opposite him which doesn' t sound good. Also it's taken six years to get into production. They' ve shot ten days of film and they' re into this 'Is this film worth going on with?' nonsense."
WERE THEY ON THE SAME SET OR SOMETHING?
LYDON: "Yeah, Cinecittà Studio, we had 1 and 2, and they took 2 off us, and 3 and 4 as well. They had all these Chinamen..."
IT MUST HAVE BEEN AN EYE-OPENER.
LYDON: "They got me this ballet teacher, right, to lose weight quick, that and the starvation diet. They made me do all the major scenes where I' m practically naked first, so I look fat and cruddy, and at the end of the film I' d lost something like 55 pounds, so there's no comparison. It really doesn' t make much sense if you hold up the clips together, like 'Look...but...UH?" (laughs) But the Eyeties won' t have it. "Harvey said it was the worst set he' d ever worked on. For me it was... I thought 'Oh, is THIS what it's like?' No more for me. It was just too chaotic, it put us in a bad mood every morning. "They' d even pick us both up in the same car each morning. Every morning with the same face staring at you, then having to face the same face on set, and then having to have dinner together afterwards. (groans) Can you imagine? Nausea! (laughs) And I loved every minute of it."
HE'S A BRILLIANT ACTOR. WHAT DID HE THINK OF IT ALL?
LYDON: "Harvey really wanted to do this film, and so did I. He wouldn't half like to be a big star..."
HE ALREADY IS, AT LEAST TO A LOT OF PEOPLE.
LYDON: "I did the film because I have very great respect for him. A nicer geezer you couldn't hope to meet, but method actors - avoid. They are dangerous business. They' re not acting, they' re being real. All the violent scenes, the fight sequences between us - I' m REALLY beaten up, boys and girls. There were times when he was throttling me and I' d look at him and think 'Christ, he's actually gonna do it, I' ve had it!'" (laughs)
WHAT WAS THE HARDEST THING ABOUT ACTING?
LYDON: "To me acting is being natural, and that's the hardest thing in the world, to be in front of a camera with people waving lights and microphones around, particularly when you have to say these very personal things, real emotional bits... "All of this is far from the music business, which I' d got really depressed with. It was perfect." (looks at TV screen where De Niro is raging) "Yeah, I met him. Met a lot of them. They all work in the same film centre. We were going to be sharing make-up facilities with Sophia Loren until she got arrested (*****). I was really annoyed about that. It would have been really good: (deadpan) 'Hi Sophe.' - 'Hi John.' - 'What ya do last night?' - 'Not much, same old thing. And you?' (laughs) "I can' t help but be star-struck by all those people. Like it was 'Oh, hi Bob!' from Harvey. Bob? Oh, DE NIRO, and like he's standing there behind the camera as they' re filming us doing something, and y' know it was...(pulls face)...aagh! It was bad enough playing opposite Harvey, but Christ, there's like Billy Wilder, Robert De Niro, and there's Fellini walking past that way, all looking at you doing yer bit and, oh fuck, I nearly died the death so many times."
NOTES:
(*) Ronald Reagan arrived in Rome on Monday, 7th June 1982.
(**) Roberto Faenza "Senza chiedere permesso. Come rivoluzionare l' informazione" (Italy, 1973)
(***) Ronald Reagan returned to the USA on 11th June 1982.
(****) "Once Upon A Time In America" (USA/Italy, 1984)
(*****) 19th May 1982, on income tax evasion charges.
Speaking later in Sounds Lydon claimed he was mis-quoted over anti-Italian comments in this interview, and accused the NME of adding to the quotes. He commented: "They ask a precise question and you give a precise answer. Then they put these little bits inbetween which you never said… I don't have anything against the Italians. I have many good friends over there. These things make me angry".

Picture Credits: (Top to Bottom)
John Lydon, NME 7th, August, 1982 © Anton Cornjn