Keith Levene:
NME, 16th December, 1989
Transcribed (and additional info) by Karsten Roekens
© 1989 NME
LEVENE DANGEROUSLY
A founder member of both The Clash and PIL, Keith Levene now lives and works in Los Angeles. With a new LP out, he tells JANE GARCIA how he's been toying with Ska, who discovered Joe Strummer, and what it's like to have The Edge borrow your guitar style.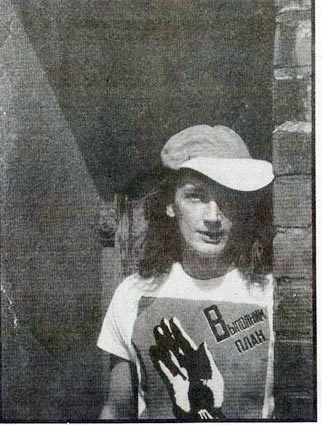 Until the release of PIL's "Metal Box" in 1979 Keith Levene was, in the public's mind, just another
guitarist. A founder member of The Clash, his innovative slashing style on PIL's debut record was ignored in the feeding frenzy that descended upon the post-Pistols Rotten carcass, despite the man's 'Blondie is a group'-type assertions. But "Metal Box"'s 'Pop tones' and 'Careering' - postpunk aural landmarks - made Levene a guitar star.
Cut to 1989, and here comes Keith Levene's new record "Violent Opposition", a curious mixture of instrumentals and covers reminiscent of "So Alone", the 1978 solo album by Levene's hero Johnny Thunders. Managing to sound fresh in its old-fashioned-ness, it's a far more intriguing listen than the recent efforts of two former Levene cohorts, Joe Strummer and John Lydon. Chatting in his Los Angeles apartment Levene is friendly though overly aware of the interview procedure, possibly the result of being married to a journalist. His tendency to issue pronouncements ("You might want to tape this", he says at one point) can probably be attributed less to arrogance than to the fact that he worked in the shadows of two of Punk's most charismatic limelight-hogging figures, and was rarely asked for his opinions. "Violent Opposition"'s covers include two 1969 Ska classics guaranteed to bring tears to the eyes of ageing skinheads everywhere: Dave and Ansil Collins' 'Double barrel', and the Harry J Alistair'. Then there's Hendrix's 'If six was nine', sung by Norwood Fishbone, and John Lennon's 'Cold turkey', a song that takes on acute relevance considering Levene's rumoured battles with heroin, which he now seems to have under control. "I don't normally talk about drugs, but 'Cold turkey' does kind of spotlight the situation, doesn't it?" he admits. "Right at the end I cornily say 'But I won!', which is true. John Lennon won too when he went through the same situation. You realize it's just a fucking drag and you've got to get out of it. Lou Reed came to that revelation. Just the past couple of years so many people have come out of the closet about 'I've just come out of such-and-such institution'."
The album takes its title from a quote by Albert Einstein: "Great spirits have always encountered violent opposition from mediocre minds." If Levene isn't quite a great spirit he certainly left his mark on everyone he worked with. Although he departed The Clash before they recorded their first album it was Levene who in 1976 brought in Joe Strummer from The 101'ers. "They were a wild 1950s rock'n'roll band", he remembers. "Joe used to wear zoot suits and just go fucking mad all over the place. He was always so great to watch. And me and Bernard (Rhodes, later Clash manager) nicked him. We did it in secret and then had to tell Mick (Jones), because at the time we had this Mick Jagger-lookalike-be-alike person...when we got Joe it was like - boom! - the band!" "There's a lot of me in The Clash", says Levene. "I was contributing to the helter-skelter factor, to the velocity of how the songs were played, making things go much faster...I knew Mick well enough to know that what he wanted to do was just play really nice love songs. Really, The Clash would have sounded like Squeeze if Mick had his way."
After leaving The Clash - "It was just me or Mick, and it was quite alright with me to let it be him" -
Levene worked with The Slits and Cowboys International's Ken Lockie. Joining PIL in 1978 brought him into the spotlight for the first time, his involvement with The Clash forgotten by the media once they'd hit the big time. Levene was PIL's creative force, inventing a guitar style copied by everyone from U2 down. "I've had questions asked of me as direct as 'What do you think of the fact that The Edge ripped off your sound?'", Levene laughs, "and I just say 'Good luck to him'. Some people say 'A lot of people use your sound. Do you resent their position as opposed to
yours?' Actually I don't, I put it down to good taste."
Levene's blueprint of PIL's sound remains evident in their current work, seven years after he left. He doesn't seem bitter about John Lydon, his only comment on their split being "I don't know what happened. I'm not going to slag him off. He can just get on with it." Levene's last PIL album came out in two different forms: the group's "This Is What You Want, This Is What You Get", and his own "Commercial Zone", superior versions of the same material which Levene subtitled "this is not a bootleg". "Virgin loved it, but John goes 'No' after just having picked up a hundred grand from Elektra to re-record it...It was simpler for me to sign my rights away to PIL for the future, so I could get off the label." About extricating himself from his PIL legal wrangels Levene says "It took me a year-and-a-half. It completely changed the course of my life. One minute I didn't have to think about money, and I was without thinking directing my energy in the right places. The next minute I was broke and PIL are swanning around in Japan."
I ask Levene why so many of Punk's prime movers - Lydon, Steve Jones, Malcolm McLaren, Paul Simonon, Billy Idol and, of course, Sid Vicious - have ended up in the US, where they can exploit their Punk roots much more easily than at home, the British public being notoriously more fickle and less easily fooled. (Only in America could a non-entity like Barbara Gogan get away with advertising a recent gig in New York's 'Village Voice' with the legend "ex-Passions. 'I'm In Love With A German Film Star'".) "It did seem to be what you might call a spontaneous migration, but that's what happens if you go out and end up doing tours here and there", says Levene. "But if there's a bright centre of the universe, London is the furthest place from it in terms of what these people might be looking for." "I think they're working for the money, which is OK. There's no point in saying that's not what they were about in the first place, because I think that's exactly what Billy was about, and probably Steve.He was probably really pissed off that the Sex Pistols broke up, because they could have been a really famous rock'n'roll band."
Though he's already been in a couple of really famous rock'n'roll bands himself, Levene seems to duck out when fame comes too close. His "Steal This Record"(*), the title of an earlier disc, echoes Abbie Hoffman's "Steal This Book" exhortation of the 1960s, hardly the stuff of which wealthy pop stars are made. "I'm sick of superstars and the way these people are presenting themselves", says Levene. "Maybe I'm naive. Maybe that's the way you have to go about it to get somewhere. I want to do gigs where you don't charge people to get in, I want to do gigs that are mobile, that you can drive into."
Thus speaks Keith Levene, Man Of The People. He may never be rich, but he'll never be boring.

Note:
Actually "Steal This Disc Volume 2", a 1988 various artists compilation featuring the Keith Levene track 'Cops too'

Picture Credits: (Top to Bottom)
Keith in LA, 1989 © Evgena Nesterov