Jah Wobble & Holger Czukay:
Various interviews 1981
Transcribed (and additional info) by Karsten Roekens
Musikexpress, November 1981
© 1981 Musikexpress
JAH WOBBLE
"IT'S TIME TO PLAY THE MUSIC, IT'S TIME TO LIGHT THE LIGHTS..."
(From: 'Musikexpress' magazine 11/81, Germany, street date was 26.10.1981)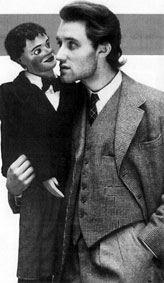 When he quit his job as bassist in Public Image Ltd., he asked via press release not to make any fuss about this decision: after all there were more than enough youths on the dole to which the media should turn their attention to. Simultaneously, Jah Wobble, the actual first name is John, rushed out one and a half albums, to join the creative company Wobble/Czukay UNlimited soon after.
"Don't you eat these potatos any more?" - "No, I'm stuffed." - when I turn around again the three bits are gone. Wolfed down by a stomach sick guy who has consumed considerable amounts of wine since yesterday evening and has set up a record in scrounging cigarettes.
The stomach sick guy is called Jah Wobble and doesn't spend money on cigarettes by principle. And now he wants "an ice cream such as Holger's." Which means an outsized portion enough to serve as dessert for five people.
When it's in good form the affected stomach seems to have a similar capacity as the former PIL bassist's creative potential. Wobble took advantage from the inertia of Public Image Ltd. by recording and producing the LP 'Betrayal' and the 38 minutes-long EP 'Blueberry Hill' in record time. "The studio was booked but nobody went in. I couldn't understand that at all, so I worked in there."
The rest of the band couldn't cope with such a rushed way of working. With the release of 'Flowers Of Romance' it became apparant that Wobble's spontaneity had endowed them with an enjoyable supply of vitality. Without Wobble's creative influence John Lydon's neurotic sensibility let the sound of PIL often ematiate to a skeleton. John Jah Wobble is of a high-spirited mind. Sensible (the stomach), gutsy, humorous and extremely diplomatic, even when somebody gets totally on his nerves. He may just start to tell Irish jokes then...
"John Lydon always was green with envy for that. He couldn't understand how I was able to deal with such kinds of situations." At first he wasn't keen on commenting his split with PIL too much, but sitting under Holger Czukay's magic tree at the Lake Aachener Weiher in Cologne with so many good vibrations, he lets slip the one or the other remark. Perhaps it's just the red wine. "If you hand it over before we start the interview I will certainly tell you more. When I'm drunk I always say things I'd kept for myself otherwise", he challenges me in the car. But as soon as we're having coffee (when will we begin with the damned interview ?) he relaxes.
While drinking unhealthy quantities of cappuccino he tells us how he narrowly escaped a stomach operation. Now he swallows some chemicals while puffing away on scrounged
cigarettes and listens with interest to my lecture on relaxing breathing exercises. We both agree a few Far Eastern wisdoms would be of considerable help, but who can summon up the necessary discipline with all the stimulus satiation? The only man we know is Holger Czukay. His working ethos impressed Jah Wobble immensly from the start. On the other side he's quite good at arousing his mentor.
Holger had got in touch after the release of 'Metal Box', the second PIL album. After initial interest John Lydon retired into his mousehole, so a first meeting with Jah Wobble took place. "We met at the flat of Angus MacKinnon, an English journalist. John came in with a six pack of lager and opened two cans. Oh dear, I thought, I don't like beer... but we started to talk, and soon the beer cans were left untouched."
The two were made for each other. Both of them musical spontaneity fanatics who use everything in the studio available. After doing a session to check each other out at a tiny reggae studio in Soho they were unstoppable. Holger got enormous kicks out of it, and John had to be dampened now and then. Wobble came down to Cologne to work on the now widely mentioned EP at Can's studio with Czukay and drummer Jaki Liebezeit.
At various points the drumming aesthete, now engaged in The Phantom Band, had real problems with the unconventional style of bulldozing Wobble. During the recording of the track 'Trench warfare' John got a taste of his partner's severe hand. Early in the morning around 5 am he began to pester. They were both sitting in a club listening to old ska records, and he suddenly wanted to go into the studio. But Holger was tired. John: "Come on now, you have to be a little crazy sometimes." And Holger: "All rigt then, but if you don't come up with something worthwhile you'll be very sorry!"
In the studio he suggested Holger should play the bass part, while attempting to sit down behind the drum kit, it seemed he didn't like Jaki's contribution somehow. But this resulted in a sermon: "It is a total lack of respect to sit behind Jaki's drums while he's asleep upstairs. We better talk with Jaki tomorrow to find out what he intended." When Wobble's going strong he creates a lot of fuss. "We used the take in the end," remembers Holger, "and suddenly John ran through the studio brandishing an iron bar..."
"May I have another cigarette, love?" The packets empties rapidly while he talks about his philosophy. His answer to the obvious question whether he considers himself as a musician is "No." The overall idea of course is that somebody who isn't capable of playing his instrument in the conventional way can be much more musical (as more creative) in the end. Running around in the studio with an iron bar can be helpful in this respect...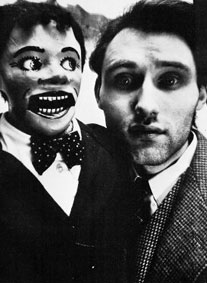 I ask him of his opinion on the theory that the future does not lie in outer space but in the primitive. Repressed rituals seem to become enormously attractive as more and more musicians succumb to the magic of tribal rhythms, and Siouxsie and The Banshees got their dedicated fans hypnotically ecstatic with their recent 'Juju' LP. John has an amazingly practical view on it: the secret is simplicity. Megalomaniac machinery has always been harmful to the music. The more reduced your work, the more intense the outcome might be.
He shares a lot of points of view with Holger Czukay. On the one hand it's because he likes to follow spontaneous intuitions rather than a set pattern. On the other hand he loves to be inspired and therefore has learned a lot. For example you can get a lot more impact out of a recording made on a creative high by severe cutting and erasing parts of tracks. His voice serves merely as an additional sound. He does his own lyrics, but they don't have a message because they are too steeped in his private thoughts.
"I don't think you can fully understand them anyway." And so the vocals (he doesn't see it as singing) can be treated with cuts too. "I love it when fragments of voices float in from the outside," he says. An effect from the much praised EP which sometimes caused the sound to arch like the grid on a radar display. By the way, not aesthetics but rather a heavy broadside is delivered by Jah Wobble's new band The Human Condition. At the drums is another ex-PIL musician, Jim Walker. Their guitarist is simply called 'Animal', it's his name and it's his nature. Wobble vaguely promised a few planned gigs over here this autumn, if they are going to happen wasn't confirmed yet by deadline.
But in the meantime he has been back in Cologne on several occasions to record first basic tracks with Holger Czukay and Jaki Liebezeit for some new projects. I could only find out that it all sounds "quite unusual" so far. If you remember the promising foundation (four tracks on the EP, one track on Holger Czukay's 'On The Way To The Peak Of Normal', an elegantly understated mixture of discreet reggae and funk elements in stereophonic richness) you have to wonder how to top it. But in the moment this is just another story, just like Phew.
Jah Wobble was taken with a single, lying around unnoticed at the office of his English record company Virgin. It was a production featuring the Japanese singer Phew. He took it with him to Cologne and forced an open door. Studiomeister Conny Planck, Holger Czukay and Jaki Liebezeit stripped the musical concept of the avant-garde Japanese down to a naked minimum to create sufficient space for the brittle capacity of her voice. During our meeting in Cologne Jah Wobble, just as the musicians involved, enthuses about the charisma of this modern chansonette, who was nearly stripped bare to her soul in the studio. Everybody
waited eagerly for a reaction from Japan, the finished production having been submitted long ago.
Latest news: a "revised" (= presumably ruined) version arrived in London...

Sounds, Germany October 1981
Transcribed (and additional info) by Karsten Roekens
© 1982 Sounds
'STORIES LIFE TEACHES US... JAH WOBBLE' (excerpts)
(From: 'Sounds' magazine 10/81, Germany, street date was 24.9.1981)
[...] During a music industry convention in Cologne, organised by mother EMI, Jah Wobble told us about his new band The Human Condition, who already have done some recordings and warm-up gigs (one in Berlin) and are preparing a tour of West Germany this autumn. No singing, "...just music." Jim Walker, the first PIL drummer, is on board again, and nobody could remember the guitarist's name.
[...] Wobble's bass sound has become more earthy and harder, not as blurred and wobbly as in PIL. How come? "Holger Czukay is a genius. He not only uses three tracks for the bass and lowers the complete middle frequencies down to 300 hertz, which was already common practice, he also cuts every single bass tone by hand, which results in shortening the swelling of the tone, by cutting thousands of little pieces out of the tape with scissors, genius..."
Such and similar questions were asked by technocrat journos - in other words: nerds - and if we hadn't entertained him with our jokes he would have lost his appetite. On the search for the real reason of Wobble's exit from PIL we had just enough time left to ask him about John Lydon's alleged homosexuality. A tell-tale smile which burnt itself deep into our hearts was the only (?) answer, as he got himself out of it that evening.
HOLGER CZUKAY - THE TYRANNY OF THE MASTERPIECE' (excerpt)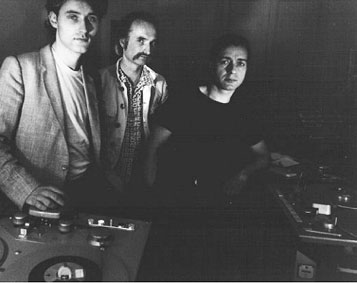 [...] HOW DID YOU MEET JAH WOBBLE?
HOLGER CZUKAY: "Through Alan Bangs from Rockpalast - he put a Public Image Ltd. record on and I said I'd love to meet them sometimes. John Lydon wasn't interested, but Jah Wobble was, we were like two dogs taking stock of each other. Then we clicked, he provided a French horn and we entered a London studio and recorded 'How much are they?', which ended up on our EP. The rest of it we did in Cologne."
MY FAVOURITE TRACK IS 'TRENCH WARFARE'.
HOLGER CZUKAY: "It is the only track where he wasn't present for the mix. We did the basic track and one overdub together, and then I reworked it from scratch. It is based on the victory hymn of the BBC from the last war, the opening of Beethoven's fifth. I always found it quite remarkable that the English used it
during the war."
IT`S THE MORSE CODE OF THE LETTER 'V' (SHORT SHORT SHORT LONG). IT WAS THE IDEA OF AN OLD TEACHER OF MINE WHO WORKED FOR THE GOVERNMENT THEN. HE TEACHED LATIN AND GREEK, AND HE WAS A CROSSDRESSER. WHY DO YOU LIKE JAH WOBBLE?
HOLGER CZUKAY: "He knows no fear. He came to Cologne to break all the rules and set up new ones. He's very fresh, very demanding, a real explorer. His real name is John Wardle. At Conny's studio we did the mix of 'Twilight world' first. He said the whole sound lacked rhythm and life. I was working all the time while he was going to a gig, and he comes back and tells me something like that. I ordered him to show me. He sits down behind the mixing desk and turns all the knobs to the right, then to the left, to-and-fro, all units always in extreme positions. The system began to shake. I thought he was going to blow up the whole studio. But then the rhythm became visible. He had it. He is a real rocker, clean and direct. I think he is forming a band right now. He definitely should play more." [...]

Picture Credits: (Top to Bottom)
Wobble, Musikexpress, November 1981 © unknown
Wobble, Czukay, Liebezeit; circa 1981 © unknown